BBC News - UK
The latest stories from the UK section of the BBC News web site.
VIDEO: Big wave surfer welcomed home
10 Dec 2013 at 9:01pm
Friends and fans of big wave surfer Andrew Cotton welcomed him back to Devon with a screening of his epic wave riding in Portugal.
VIDEO: Speaker tells noisy MP to take up yoga
11 Dec 2013 at 12:45pm
Speaker John Bercow had an unusual suggestion to calm one errant MP making noise during Prime Minister's questions.
VIDEO: Scotland's killer avalanches explained
11 Dec 2013 at 3:06pm
A documentary explains why avalanches caused so many deaths and accidents in the Scottish mountains last winter.
VIDEO: First sighting of hidden bridges
11 Dec 2013 at 11:46am
Bridges hidden when Rochdale's River Roch was covered over have been seen for the first time in a century, ahead of a project to uncover them.
VIDEO: Soldier's new life with bionic arm
11 Dec 2013 at 6:03am
A soldier injured in battle says he is determined to make a success of his new life with a bionic arm.


The Guardian World News
Latest news and features from theguardian.com, the world's leading liberal voice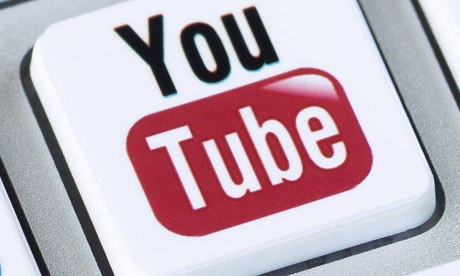 YouTube revenues may rise by 50% to $5.6bn
by Stuart Dredge
11 Dec 2013 at 10:31pm
Report by eMarketer says the online video website, owned by Google, has become a major draw for advertisers
YouTube's advertising revenues will rise by more than 50% to $5.6bn in 2013, according to a report that confirms the threat posed by the internet to traditional TV ads.
The report by eMarketer claims that YouTube has become such a draw for advertisers that it will account for 11% of advertising revenues at Google, YouTube's parent. The eMarketer estimate tops previous predictions. In May, Morgan Stanley predicted that YouTube's gross revenues would reach $4bn in 2013, while Barclays suggested a likely figure of $3.6bn.
Google has not revealed YouTube's earnings, but eMarketer research suggests that the search engine got a bargain when it paid $1.65bn for the site in 2006. However, YouTube does not keep all the advertising revenue and must pay a share to advertising partners and providers of content. Google's public statistics for YouTube include the fact that the service attracts 1 billion people watching more than 6bn hours of video a month, with 80% of its traffic coming from outside the US, and 40% of its viewing time happening on mobile devices. Advertisers are keen to buy slots on YouTube because of its young audience, who prefer to watch TV programmes through their computers, tablets and mobile phones rather than conventional televisions.
YouTubeGoogleAdvertisingStuart Dredge
theguardian.com © 2013 Guardian News and Media Limited or its affiliated companies. All rights reserved. | Use of this content is subject to our Terms & Conditions | More Feeds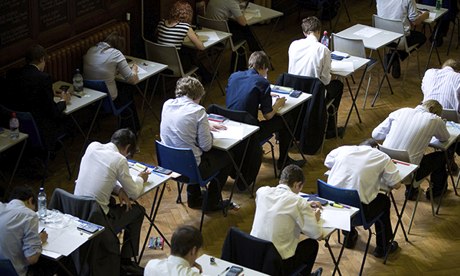 Genetics accounts for more than half of variation in exam results
by Ian Sample
11 Dec 2013 at 10:00pm
Environment, including home and school life, is a less important factor in pupils' GCSE results than genes, study suggests
Differences in children's exam results at secondary school owe more to genetics than teachers, schools or the family environment, according to a study published yesterday.
The research drew on the exam scores of more than 11,000 16-year-olds who sat GCSEs at the end of their secondary school education. In the compulsory core subjects of English, maths and science, genetics accounted for on average 58% of the differences in scores that children achieved.
Grades in the sciences, such as physics, biology and chemistry, were more heritable than those in humanities subjects, such as art and music, at 58% and 42% respectively.
The findings do not mean that children's performance at school is determined by their genes, or that schools and the child's environment have no influence. The overall effect of a child's environment – including their home and school life – accounted for 36% of the variation seen in students' exam scores across all subjects, the study found.
"The question we are asking is why do children differ in their GCSE scores? People immediately think it's schools. But if schools accounted for all the variance, then children in one classroom would all be the same," said Robert Plomin, an expert in behavioural genetics who led the study at King's College London.
To tease out the genetic contribution to children's school grades, the researchers studied GCSE scores of identical twins (who share 100% of their genes) and non-identical twins (who share on average half of the genes that normally vary between people). Both groups share their environments to a similar extent.
Comparing the twins' exam scores allowed the scientists to work out how much of the variation was down to genetics, and how much to environment. For example, when identical twins get different GCSE scores, the cause cannot be genetic, so it must be what scientists call "non-shared environment" effects – such as the better student having a better teacher.
A child's performance is influenced, but not set, by their DNA. While one child may excel, their identical twin may not. But taking an average over the population studied, around half of the variation in GCSE scores was due to genetics, Plomin found. Details of the study appear in the journal, Plos One.
Writing in the journal, the authors point out that genetics emerges as such a strong influence on exam scores because the schooling system aims to give all children the same education. The more school and other factors are made equal, the more genetic differences come to the fore in children's performance. The same situation would happen if everyone had a healthy diet: differences in bodyweight would be more down to genetic variation, instead of being dominated by lifestyle.
Plomin said one message from the study was that differences in children's performance were not merely down to effort. "Some children find it easier to learn than others do, and I think it's appetite as much as aptitude," he said. "There is a motivation, maybe because you like to do what you are good at."
Genetics, he said, caused people to create, select and modify their environment, and so nature drives nurture, which in turn reinforces nature. A child with a gift for maths seeks friends who like maths. A child who learns to read easily might join a book club, and work through books on the shelves at home.
Michael Reiss, professor of science education at the Institute of Education in London, said that while genetics undoubtedly plays a role in educational performance, the information might not be very useful. "Some people have to wear glasses because of genetic defects, and other people wear them for reasons that have nothing to do with genetics. As long as you are wearing glasses in school, it doesn't matter at all. The genetics is utterly irrelevant," he said.
In the past 10 years, programmes have been developed that help children who have fallen behind with their reading to catch up. The programme does not rely on genetics, but focuses on the particular problems the children have in reading. "It doesn't matter if you're teaching maths, rowing or the trombone. A good teacher is very sensitive to the individual needs of the learner, and I don't think the genetics is going to help very much with that," Reiss said.
Plomin said that educational performance could be affected by thousands of genes, each of which has a minuscule effect. Finding them will be tough, but would allow scientists to work out which gene variants affect performance in different subject areas.
That might produce problems of its own though. "The worry is that parents, teachers and children themselves start thinking 'It's not worth my while trying, I don't have the genes for it', but that's false logic. The big problem is equating genetics with determinism. It's a very powerful [misconception] and difficult to shift," said Reiss.
Plomin believes that education might be improved by enlarging schools so they have enough resources to offer children a greater range of subjects and activities, so each can find out what they are good at.
"Education is still focused on a one-size-fits-all approach and if genetics tells us anything it's that children are different in how easily they learn and what they like to learn. Forcing them into this one academic approach is going to make some children confront failure a lot and it doesn't seem a wise approach. It ought to be more personalised," he said.
"These things are as heritable as anything in behaviour, and yet when you look in education or in educational textbooks for teachers there is nothing on genetics. It cannot be right that there's this complete disconnect between what we know and what we do."
GeneticsSchoolsGCSEsExamsIan Sample
theguardian.com © 2013 Guardian News and Media Limited or its affiliated companies. All rights reserved. | Use of this content is subject to our Terms & Conditions | More Feeds

Napoli v Arsenal – live! | Scott Murray
by Scott Murray
11 Dec 2013 at 9:44pm
Arsenal lose, but make it to the second round anyway as Napoli crash out. Scott Murray was watching
Scott Murray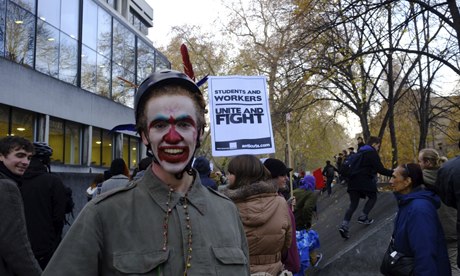 Students in 'national day of action' over police violence on campus
by Abby Young-Powell
11 Dec 2013 at 8:58pm
More than a thousand protesters march in central London as others demonstrate around the country
Over a thousand students took to the streets in central London on Wednesday, while others protested around the UK against the police presence on campus.
Tensions between students and the police have grown in the past few months after officers were caught on camera trying to recruit students to spy on activists in Cambridge.
On what was labelled a "national day of action", many protesters also wanted to make a stand against the privatisation of university jobs and facilities, the low pay and poor conditions of workers and the death of Mark Duggan.
The demonstration at the University of London Union started with a largely peaceful atmosphere. Clowns and a samba band amused the crowds and there was no obvious police presence.
Later on, students broke through closed gates into an area alongside the University of London Senate building in Bloomsbury, with shouts of "cops out, students in".
During the protest, demonstrators also set a bin on fire, attacked a police vehicle, let off flares and chanted: "Students and workers – unite and fight", and "No justice, no peace, fuck the police".
Michael Chessum, of the National Association against Cuts and Fees, said: "There is something brewing on a national level, which we haven't seen in a number of years.
"As well as police presence on campus, we're protesting against workers' struggles, campus democracy, and we have a generalised anti-privatisation message."
The protest moved through Trafalgar Square, Piccadilly, Hyde Park Corner and Holborn. Many took to Twitter to show their support using the hashtag #copsoffcampus.
Students, academics and university workers from around the country travelled to the capital to take part in the demonstration, as well as setting up similar rallies across the country.
Nadine El-Enany, law lecturer at Birkbeck, said: "Staff are here to show their solidarity with students and to show that our fight is the same fight.
"Students support us on the picket lines when we've been on strike before in recent weeks, so we're here to support students who are brutalised by police. I think the fight is going to continue."
Isobel Urquhart, a Cambridge academic, said: "There seems to be more understanding of the needs for staff and students to combine and there's more effort now to involve staff workers."
Student union officers from Bristol also took part in the protest and wore Christmas outfits and brandished festive banners in a bid to highlight peaceful protest.
Ellie Williams, of Bristol students union, said: "We're wearing our Christmas jumpers and Christmas hats because there seems to be an atmosphere around protesting that is quite angry, masculine and aggressive and we wanted to challenge that."
Ben Glinecki, a Cambridge graduate who attended the protest, said: "The police have provoked this. Their heavy-handed tactics have brought more people out onto the streets."
The protest comes just a day after Sussex University unexpectedly lifted its ban on five students – known as the 'Farthing Five', after the university's vice-chancellor – who had taken part in protests.
Adriano Marotta, one of the students who was suspended, was at the protest. He said: "We want our voices to be heard. We feel like the police are trying to silence student groups."
Student politicsStudentsHigher educationPoliceLondonProtestAbby Young-Powell
theguardian.com © 2013 Guardian News and Media Limited or its affiliated companies. All rights reserved. | Use of this content is subject to our Terms & Conditions | More Feeds
Rebekah Brooks and Piers Morgan 'accused each other of hacking at party'
by Lisa O'Carroll
11 Dec 2013 at 8:15pm
Ambi Sitham tells court tabloid editors exchanged 'back-and-forth bantering' at birthday dinner for Andy Coulson
Rebekah Brooks and Piers Morgan accused each other of hacking voicemail and email messages in front of guests at a south London birthday dinner held for Andy Coulson a decade ago, the jury in the phone hacking trial has heard.
The former Daily Mirror editor even warned one guest about giving her phone number to Brooks, saying: "Careful, she'll tap your phone," the Old Bailey heard.
Evidence about the dinner party was given by a former London media legal adviser, Ambi Sitham, who spoke to the court by video link from Los Angeles, where she now lives.
Sitham said she had gone with her then boyfriend to Coulson's birthday dinner at a steak restaurant in Balham, south London, in January 2003 and found herself sitting with Rebekah Brooks on her left and Piers Morgan opposite her.
"Rebekah and Piers were both very busy because at the time they were both editors of quite big tabloid newspapers," Sitham said. "I remember they were both very busy trying to finish off the last details of their splashes, their front covers, for their respective papers – on their phones, texting, emailing."
At one point, she told the jury, Morgan had said to Brooks: "I already know what your splash, or your cover, is going to be because I have been listening to your messages."
She said Brooks had replied: "Been hacking my phone again, have you, Piers?"
Sitham said: "He said something along the lines: 'Well, you've been looking at my emails.' It was quite a quick, back-and-forth bantering, her saying to him: 'I have left a false trail, I have led you up the garden path.' Him saying: 'I've done the same on you.' It was pointed. It was like truth said in jest. There was a pointedness to it."
Sitham, who told the jury she was working for Schillings law firm at the time, said she had been nervous at the dinner and so had deliberately drunk very little in order to avoid making a fool of herself. "I was quite nervous to be around all these people. These were pretty much the most powerful people in the media industry."
She had made small talk with Brooks, who had suggested they should stay in touch in the hope that they could find amicable settlements for any future disputes between Schillings clients and her newspaper. "I thought that was a good idea because I was taking on more responsibility at work, so I went to give her my number on a piece of paper, and Piers said: 'Careful, she'll tap your phone.' I must have looked a bit scared and pulled a funny face, because Rebekah said: 'Don't worry. Let me give you my number.'"
Cross-examined by Claire Sibson for Brooks, Sitham agreed that she had not reported this conversation to Schillings, nor made any note of it at the time. The jury were shown a blogpost published by Sitham in November 2012, headed "And the truth shall set you free", in which she had described her difficulty in deciding whether to say anything public about it.
"The situation came to a head, and six weeks ago led me to find myself in a discreet cafe with Hugh Grant, Evan Harris of the Hacked Off campaign and Nick Davies of the Guardian in a scene not dissimilar to a Richard Curtis film, apart from the fact that this was very much real life and no laughing matter."
Sibson put it to Sitham she had "fictionalised" her account. Sitham replied: "Absolutely not. As God is my witness, everything I have told you is the truth and to the best of my recollection."
"The truth is this conversation didn't happen, did it?" said Sibson. "It did," replied Sitham. The former lawyer was challenged about her recollection of events, and it was suggested that the dinner had taken place a year later, in January 2004. Sitham was asked if she remembered any discussion on the night of the Hutton report, a report into events surrounding the death of the Iraqi weapons inspector David Kelly.
She did not. Sibson put it to Sitham that the dinner took place on the eve of the report being published in 2004 and the reason why there was a pointedness to the conversation was because Morgan was angry that "the Sun had come by a leaked copy of the report", scooping the Mirror.
Brooks denies conspiring to intercept communications.
The trial continues.
Lisa O'Carroll
theguardian.com © 2013 Guardian News and Media Limited or its affiliated companies. All rights reserved. | Use of this content is subject to our Terms & Conditions | More Feeds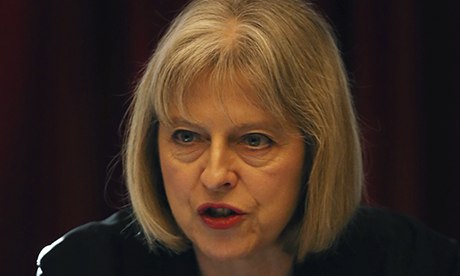 Theresa May faces grilling from MPs as MI5 and No 10 spurn hearings
by Patrick Wintour, Alan Travis
11 Dec 2013 at 8:07pm
Select committee's requests to cross-examine head of MI5 and PM's national security adviser rejected
A package of measures to democratise and tighten the scrutiny of the British security services is being prepared by Tim Farron, the Liberal Democrat president, in what will be the first formal British party political response to the disclosures by former NSA contractor Edward Snowden.
The package will be put to the party's spring conference, and will include measures to bring the security services under the oversight of a formal parliamentary select committee, as well as measures to introduce judicial oversight of intercept warrants.
The Intelligence and Security Committee (ISC), a group of senior MPs appointed by the prime minister to oversee the security services, issued a call for evidence to its inquiry into whether there is a proper balance between privacy and protection of national security.
But in a sign of the jostling in parliament over the future oversight of the security services, the home affairs select committee, an elected committee of MPs, said it would take extra time to cross-examine the home secretary, Theresa May, next week after she rejected its request to cross-examine the head of MI5, Andrew Parker.
The prime minister also rejected the committee's request to cross-examine his national security adviser, Kim Darroch. The committee is conducting an inquiry into counter-terrorism and cross-examined Alan Rusbridger, the Guardian's editor-in-chief, last week.
May told the home affairs select committee chairman, Keith Vaz, that she had rejected the request for Parker to give evidence because his appearance would "duplicate" the existing oversight provided by the ISC.
David Cameron rejected the request for Darroch to give evidence on the basis that his role focused on providing private advice to him and the national security council and his appearance would "set a difficult precedent".
The prime minister said it should be left to the home secretary to give evidence to the MPs on their concerns about counter-terrorism and the Guardian's disclosures of mass digital surveillance by GCHQ and the US national security agency.
The decision prompted a furious reaction from Vaz, who said: "The prime minister has suggested that the home secretary should come before us to answer our questions and Theresa May is suggesting that it is a matter for the Intelligence and Security Committee. We cannot play pass the parcel on the issue of accountability on these important issues.
"Ministers should take care not to dictate to parliamentary committees which witnesses can be called and for what reasons. Witnesses, no matter how senior, should not be afraid of answering questions from MPs. As a result of this correspondence, our session with the home secretary next Monday will be longer and more detailed than we originally anticipated, and she needs to prepare to come before the committee more often."
Farron, meanwhile, challenged the value of the ISC. He said: "It is a group of the great and good. Experienced hands. 'Sound men' as Sir Humphrey might put it. When the programs systemically collecting your personal information are so secret that even the cabinet are not aware of their existence, our democratic oversight has rescinded to the point of extinction."
Farron and Julian Huppert, a Lib Dem member of the home affairs select committee, met Microsoft, Google and Twitter this week to discuss the common approach the internet firms have been taking in the United States to demand greater privacy for their users.
The Lib Dem president is interested in promoting a digital bill of rights, warning that "pervasive surveillance of our entire digital lives has been allowed to take place without prior knowledge, debate or consent".In its inquiry, the ISC is asking witnesses whether internet communications can be treated differently from other forms of surveillance, such as closed-circuit television cameras.
Theresa MayMI5UK security and counter-terrorismPatrick WintourAlan Travis
theguardian.com © 2013 Guardian News and Media Limited or its affiliated companies. All rights reserved. | Use of this content is subject to our Terms & Conditions | More Feeds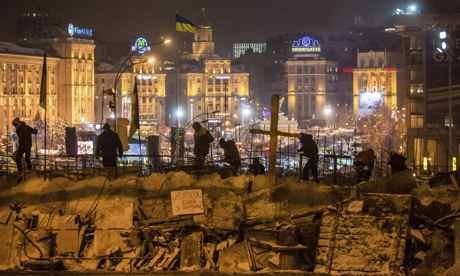 Ukraine protesters rebuild barricades after police assault
by Shaun Walker, Oksana Grytsenko
11 Dec 2013 at 8:03pm
Co-ordinated attack by officers reinvigorates flagging demonstration and brings siege atmosphere to Kiev square
Kiev's Independence Square had the atmosphere of a medieval tent camp preparing for siege on Wednesday evening as thousands of protesters worked in battalions to shovel snow into sandbags and rebuild barricades while the national anthem rang out.
The redoubled effort to secure the square came after an extraordinarily misjudged night-time assault by thousands of riot police, which achieved nothing except to re-energise a protest that had been flagging.
The co-ordinated attack on the barricades around the square in the early hours of Wednesday morning was a determined and unexpected crackdown on protesters who have occupied the centre of Ukraine's capital for the past fortnight. President Viktor Yanukovych has struggled to contain protests since he ducked out of signing an integration agreement with the EU last month.
The EU's top foreign policy official, Catherine Ashton, who visited the square after meeting Yanukovych on Tuesday, expressed outrage at the attempt to clear it.
"I really do condemn the use of force, it's totally unacceptable," said Ashton, who held an emergency meeting with ambassadors of EU countries in Kiev on Wednesday. "Especially when I had a chance to see how people are demonstrating peacefully. I think people of this great country deserve better."
The prime minister, Mykola Azarov, claimed that the police action was simply meant to clear roads. "No force will be applied against peaceful protesters. Do you understand this? Calm down," he said at a government meeting.
But there was condemnation from around the world. Carl Bildt, the Swedish foreign minister, wrote on Twitter: "Eurasia versus Europe in streets of Kiev tonight. Repression versus reform. Power versus people."
The US secretary of state, John Kerry, released a strongly worded statement expressing "disgust" at the government moves, and on Wednesday morning Kerry's deputy, Victoria Nuland, visited Independence Square and handed out biscuits to protesters.
The protests, now in their third week, culminated on Sunday in the biggest demonstration in Ukraine since the 2004 Orange Revolution. Hundreds of thousands of people paralysed the centre of Kiev, and the city's statue of Vladimir Lenin was toppled and hacked to pieces.
A Ukrainian delegation is expected in Brussels on Thursday to discuss renewing negotiations on the integration pact. Azarov said he had asked the EU for €20bn (£17bn) in aid to help Ukraine's economy through the integration process, a figure many times higher than what is likely to be on offer. Russia is believed to have offered aid and cheaper gas if Kiev abstains from signing, and financial woe if Yanukovych does put pen to paper on the deal.
Although Ukraine is split between the Russian-speaking east and the more pro-European west, Yanukovych's corruption-riddled government is unpopular across the country. The EU deal simply provided the lit match sparking broader protests against the government. Independence Square, hub of the Orange Revolution, has become the focal point of discontent, with pitched tents, food stands and a stage blaring out music and revolutionary speeches.
Wednesday's storming of the barricades came in the dead of the coldest night this year as temperatures plummeted to -13C . Shortly after 1am, battalions of police approached the vast square from all sides and began to dismantle the makeshift barricades that had been erected by protesters.
Several officers confirmed they had been given orders to clear barricades from the boundaries of the square but not remove the tent camp that has sprung up inside the space.
The fiercest battle came on the north side of the square, where hundreds of black-helmeted riot police struggled for several hours against lines of protesters wearing orange helmets distributed by organisers, in scenes that threatened to descend into all-out pitched battle.
Many police were trapped behind protester lines during the scuffles, and were saved only by the relative restraint of protesters, who set them free and even handed back their shields, only for police to launch new assaults. Eventually chainsaws were used to clear the barbed-wire-topped wooden barriers and hundreds of riot police moved into the square itself.
The barricades were removed and hundreds of police took up positions on the square as dawn broke. However, they soon disappeared entirely from the city centre, leaving protesters to rebuild the barricades that had been dismantled just hours earlier.
At Kiev city hall, which has been occupied by protesters for 10 days, buses packed with riot police drove up mid-morning on Wednesday prepared to reclaim the building but were repelled by protesters spraying them with water, using fire hoses from first-floor windows. A huge crowd gathered outside taunting the riot police, who remained stuck in their buses for an hour before driving away to joyous chants.
"I am completely sick of this government and this president," said 42-year-old Mykola Levchenko, who on Wednesday evening was helping to put the finishing touches to a new barricade of snow-filled sandbags and metal railings at one entrance to the square. "We are going to stand here until he resigns."
Tension remained high in Kiev throughout Wednesday, and police briefly closed both the city's airports and the main train station after receiving bomb threats. Yanukovych said he was ready to talk with the opposition, but Vitali Klitschko, the former heavyweight boxing champion and one of the main opposition leaders, said that only the president's resignation and snap parliamentary and presidential elections would suffice.
"This was the most stupid thing the authorities could have done," Klitschko told the Guardian early on Wednesday morning. "To clear out the square when Catherine Ashton is in town. People here are determined not to live in a police state."
UkraineProtestEuropeShaun WalkerOksana Grytsenko
theguardian.com © 2013 Guardian News and Media Limited or its affiliated companies. All rights reserved. | Use of this content is subject to our Terms & Conditions | More Feeds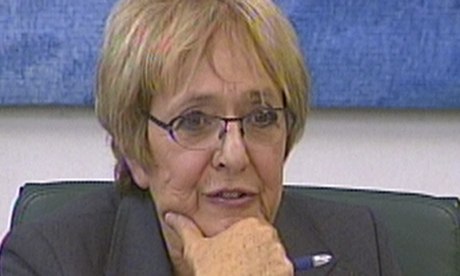 Up to 40% of new student loans may never be repaid
by Rajeev Syal
11 Dec 2013 at 7:54pm
Senior official's admission prompts public accounts committee to warn of 'massive cost to the public purse'
Around 40% of new loans issued to students to pay for their degrees may never be paid back, a senior civil servant has told MPs.
Martin Donnelly, the permanent secretary at the Department for Business, Innovation and Skills (Bis), said the estimate was at the "top end" of what they expected would not be collected, but it was "not unrealistic".
His comments came at a bruising session of the public accounts committee (PAC). Officials were criticised for failing to close an expensive 0845 helpline for students seeking advice over their loans and chastised for failing to have basic facts at their fingertips.
The committee heard that in 2010 it had been estimated that 28% of money lent would not be repaid; by 2013, that figure had risen to 35%, and it could now be as high as 40%.
Margaret Hodge, the committee's chair, said the resource accounting and budgeting (Rab) charge, which is the proportion of loans issued that Bis does not expect to be repaid, involved "massive cost to the public purse" and would be close to 40%. Donnelly replied: "At the moment, that's at the top end of our estimates but it is not unrealistic."
When Hodge questioned whether plans to offload £900m of student loans for £160m would give the taxpayer value for money, Donnelly replied that "getting through the value-for-money test was absolutely vital". She said she doubted that it would be, and asked for a note to be sent to the committee clarifying his position.
Donnelly also disclosed that there were now 40,000 students on Higher National Certificate (HNC) and Higher National Diploma (HND) courses at private colleges. That increase had caused some concern at the department, he said.
Another witness, Mick Laverty, the Student Loans Company chief executive, was asked why he had failed to close a helpline for students that charged 41p a minute from a mobile phone, despite officials having been asked to consider alternatives at a previous PAC meeting in July.
Richard Bacon, a senior Tory committee member, said: "Why should students, many of whom are struggling, be charged the cost of a meal to phone you, given that your organisation has assets worth billions?" Laverty replied that he hoped to have found an alternative by April.
Laverty then updated the MPs on an investigation into finance provided to Romanian and Bulgarian students.
The universities minister, David Willetts, last month froze payments to students from the two countries at "alternative providers", such as private colleges, amid suspicions about eligibility for student support loans.
So far, 92 cases had been identified as ineligible, Laverty said, and efforts would be made to claw the money back.
"We have currently suspended all payments to what we call A2 applicants, that's students who are applicants from Romania and Bulgaria at what is termed alternative providers. That applies to around 7,500 students," he said.
"We did that specifically because we were picking up in our analytic work at the Student Loan Company quite high instances of those applications or those applicants at alternative providers."
"As we sit here today, we have completed 35% of that exercise, so we have reviewed 2,635 individual cases and we have cleared 839. That's 11% of the overall total.
"We think, out of the ones we have looked at so far, 92 cases – so that's 1.2% of the overall total – are ineligible. And that process is continuing on a daily basis."
Last month, the National Audit Office (NAO) produced a critical report that suggested over £5bn of public money paid out in student loans was unaccounted for because the government had insufficient information about the recipients.
It found around 368,000 students who have borrowed money for whom the business departmenthad no current UK employment record or other details on earnings.
This could be because they are unemployed students living in the UK, EU students who have returned home, or UK students who have moved overseas.
It means that the government lacks the information to decide whether these students should be making repayments on their loans; and, if so, how much.
Under the current system, students repay their loans only when they are earning a certain annual salary – now set at £21,000 – and repayments are linked to their earnings.
The NAO's report concluded that this group had a total remaining debt of £5.3bn.
Three members of the committee expressed their surprise at how poorly briefed their witnesses had been. "You have come deeply unprepared, guys," said Hodge.
StudentsHigher educationMargaret HodgeRajeev Syal
theguardian.com © 2013 Guardian News and Media Limited or its affiliated companies. All rights reserved. | Use of this content is subject to our Terms & Conditions | More Feeds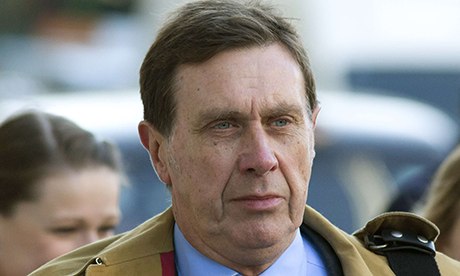 Clive Goodman feared blame for all Mulcaire activities, NoW lawyer wrote
by Lisa O'Carroll
11 Dec 2013 at 7:41pm
Trial shown email written by Tom Crone two months before NoW's Goodman and phone hacker Glenn Mulcaire were jailed
The former royal correspondent of the News of the World told his lawyers seven years ago that he did not want to be seen as the "guiding light" behind everything the phone hacker Glenn Mulcaire did at the paper, the Old Bailey has heard.
A seven-year-old email uncovered during recent police investigations reports that Clive Goodman was "devastated" when the number of charges against him in 2006 relating to phone hacking increased from eight to 15, and felt that he was getting the blame for everything illegal Mulcaire may have done.
The email from the paper's former legal manager Tom Crone to the then editor, Andy Coulson, was dated 22 November 2006, two months before Goodman and Mulcaire were jailed for offences relating to hacking the voicemails of members of the royal family and others.
Crone wrote that Goodman was worried that if he did not draw a clear distinction between himself and Mulcaire he would go to jail.
Goodman and Mulcaire had been arrested in August 2006 on suspicion of hacking the voice messages of members of the royal household, and were sentenced in January 2007.
"Just rang Clive – he says he's 'devastated' by the fact that the number of charges against him on the indictment has gone up from 8 to 15 – and count charges him (and Mulcaire) with accessing Helen Asprey [personal private secretary to Prince Harry] between Feb and April 2005," the email reads.
"Said he feels he has to draw a 'clear distinction' between himself and all of Mulcaire's other activities. He must make it clear that he is not the guiding light at the NoW behind everything GM did over the years. 'If I [Goodman] don't do that, I'm going to prison, it's as simple as that.'"
Crone sent a second email to Coulson three days later to discuss the company's probable apology to those whom Mulcaire or Goodman may be found guilty of hacking. He said an apology could "tilt Mulcaire into reacting" and pointing to phone hacking that went wider than the royal family.
"Potential problem with the NoW/you apologising to specific individuals (the 3 involved in Clive's charges) is that it leads to the question.. Well are you going to apologise to all the others, for example the names in Mulcaire's extra charges. It would be very difficult question for us to ignore […] We could say that those 5 people are nothing to do with us […] Which could tilt Mulcaire into reacting."
Crone then mentioned others including Max Clifford and the MP Simon Hughes who at that time were alleged to have been hacked by Mulcaire.
"Also an apology to the Clive 3 might prompt Clifford or Simon Hughes or the others to say 'I too demand an apology from NoW editor'."
Coulson and others deny conspiring to intercept communications. The trial continues.
Lisa O'Carroll
theguardian.com © 2013 Guardian News and Media Limited or its affiliated companies. All rights reserved. | Use of this content is subject to our Terms & Conditions | More Feeds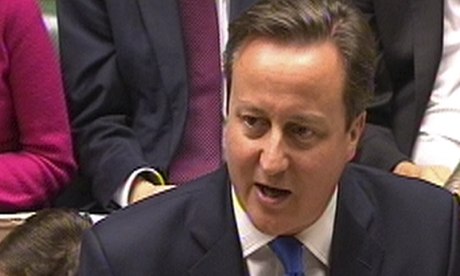 Pay rise of 11% for MPs criticised by Cameron as 'unacceptable'
by Rowena Mason, Nicholas Watt
11 Dec 2013 at 7:11pm
PM demands rethink on £8,000 salary boost planned by Ipsa amid pay restraint, warning of potential to alter wage system
The independent parliamentary watchdog is set to defy David Cameron and publish proposals expected to recommend an £8,000 increase in MP salaries, even though the idea has been condemned by the leaders of the three main parties.
The prime minister had hinted that he could scrap the Independent Parliamentary Standards Authority (Ipsa) in the coming years if it continued with its plans to raise basic pay by 11% from its level in 2015.
However, a political row broke out as Labour's leader, Ed Miliband, said the prime minister was not doing enough to resolve the uncertainty and demanded an immediate meeting on Thursday with Cameron, Nick Clegg and Sir Ian Kennedy, the head of Ipsa.
On the eve of Ipsa's report, Cameron said the prospect of a large pay rise for MPs was "simply unacceptable" at a time when public-sector workers had seen their pay increase by less than 1% a year during the course of this parliament.
He demanded that the independent watchdog thought again about its proposals to increase the basic MP salary to about £76,000, and he made clear that he had not ruled out altering the system if that did not happen. "First, the idea of an 11% pay rise in one year at a time of pay restraint is simply unacceptable," he told the Commons. "Secondly, Ipsa do need to think again, and unless they do so, I don't think anyone will want to rule anything out. No one wants to go back to MPs voting on their own pay but we have got to have a process and an outcome that can build public confidence. Third, in my view, I think this should all be accompanied with a cut in the cost of politics."
However, a spokesman for Ipsa said the watchdog's view on MP pay would be published as planned on Thursday, after two years of work and research on the issue.
In a blogpost, Andrew McDonald, chief executive of Ipsa, called for people to look at research on MP remuneration instead of "shouting". He said the proposals would involve pension and expenses arrangements, not just pay, and claimed the public had a "more nuanced and split opinion" than many politicians suspected.
Previously Downing Street had said the issue of MPs' pay "did not arise" until 2015 when there would be a review of Ipsa's decision, suggesting Cameron could be hoping that the dispute dies down until after the next election.
However, Miliband warned the prime minister not to kick it into the long grass. In his letter to Cameron, he said: "The public expect us to resolve this now and not wait until 2015. It only undermines confidence and trust in our political system if the uncertainty about MPs' pay is allowed to continue."
Cameron has not so far agreed to official cross-party talks, but told the Labour leader his door was "always open" on the issue.
The prime minister's rejection of Ipsa's likely recommendation was met with a frosty silence from his backbenchers in the Commons.
The Tory MP Peter Lilley, a former minister, suggested Cameron revived boundary reforms blocked by the Liberal Democrats if he wanted to bring down the cost of politics; that could lead to fewer, better-paid, MPs.
David CameronEd MilibandNick CleggHouse of CommonsPublic sector payPeter LilleyConservativesLiberal DemocratsLabourRowena MasonNicholas Watt
theguardian.com © 2013 Guardian News and Media Limited or its affiliated companies. All rights reserved. | Use of this content is subject to our Terms & Conditions | More Feeds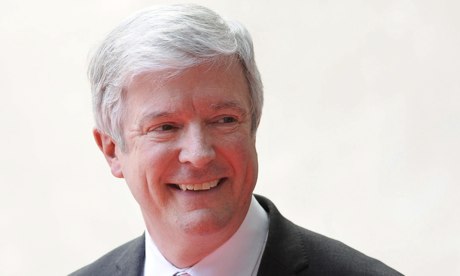 BBC must put more women on air 'as matter of urgency', says trust
by John Plunkett
11 Dec 2013 at 7:08pm
Quality of peaktime drama and current affairs also needs improvement, BBC Trust says as it sets out new guidelines
The BBC must put more women on air "as a matter of urgency" and also improve the quality and distinctiveness of its peaktime drama and current affairs, according to new guidelines set out for the corporation in an attempt to put a turbulent year behind it.
The targets were outlined by the BBC Trust as part of an overhaul in the way the BBC is governed as it tries to move on from a string of controversies ranging from multimillion-pound payoffs for senior management to the Jimmy Savile scandal.
The BBC director general, Tony Hall, and the BBC's senior management will be given a series of objectives each year by the trust, which will be made public for the first time, the corporation said on Wednesday.
In its most recent set of objectives for the current financial year, the BBC Trust, chaired by Lord Patten, said Hall must work on "improving and increasing the representation of women on air" as well as flagging up concerns about peaktime drama on BBC1 and current affairs across both that channel and BBC2.
Mishal Husain recently joined BBC Radio 4's Today programme as only the second full-time woman presenter on its current rota after prolonged criticism that the programme was dominated by men.
Hall also announced in August that he wanted at least 50% of the BBC's local radio breakfast shows to have a female presenter by the end of next year. Earlier this year, just two of its 33 solo breakfast presenters were women.
But there remain challenges ahead. BBC Radio 2, the country's most popular radio station, does not have a single full-time female presenter in its daytime schedule between 6.30am and 7pm.
A spokeswoman for Sound Women, the industry pressure group devoted to giving women a louder voice on the airwaves, said: "Sound Women welcomes the move from the BBC to increase the representation of women on air.
"As improvements are made, it would be great to see the BBC announce plans to further support women's progression and unleash potential in management behind the scenes as well, and for other media companies to follow suit."
The BBC carried out a review of the way it is governed after a string of controversies over multimillion-pound payoffs to senior management, the £100m Digital Media Initiative fiasco and the Savile scandal.
The culture secretary, Maria Miller, called on the BBC to act after what she described as an "annus horribilis" for the corporation.
In a joint statement, Patten and Hall admitted the corporation's management and regulation had become "too confused" with "too much overlap" between the two bodies. They said "people do not always know who is responsible when things go wrong". The BBC is increasing its number of non-executive directors from four to six, with the former Sony boss Sir Howard Stringer its first appointment.
There was continued fallout from the Savile scandal on Wednesday as the BBC Trust said it was standing by the findings of the former Sky News head Nick Pollard's report into the affair.
This came after a tape recording was made public of Pollard telling a journalist that he had made a "mistake" in not including evidence from the then director of BBC News, Helen Boaden, that she had told the former director general Mark Thompson about the nature of Newsnight's shelved investigation into Savile's sex abuse in December 2011. Thompson maintains that he was unaware of the Savile allegations until he left the BBC in September 2012.
The trust said it was "satisfied the conclusions of the report are robust" but said it was "regrettable that Nick Pollard had decided to try to correct the record through an off-the-record conversation with a journalist rather than raising this point directly with the BBC, who commissioned the report".
BBCBBC TrustWomenTelevision industryGenderTelevisionJohn Plunkett
theguardian.com © 2013 Guardian News and Media Limited or its affiliated companies. All rights reserved. | Use of this content is subject to our Terms & Conditions | More Feeds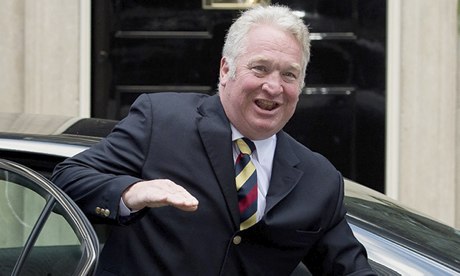 Personal independence payment delays 'unacceptable', says top civil servant
by Amelia Gentleman
11 Dec 2013 at 7:08pm
DWP benefits director admits service was not 'up to scratch' for terminally ill claimants who faced long waits after DLA replaced
Delays in paying benefits to terminally ill people were unacceptable and some claimants went through "awful experiences" waiting for payments, the senior civil servant responsible for sickness benefits has admitted.
Asked why a significant number of cancer patients had died before their claim for the new personal independence payment (PIP) was processed, the new minister for disabled people, Mike Penning, said it was critical to improve the service for terminally ill people. "We have to get it right because these people need the help as fast as they can get it," he told MPs on the work and pensions select committee.
Hundreds of terminally ill cancer patients faced long waits of weeks and months to receive income support because of changes made to the way the system is administered after the government introduced PIP, which replaced disability living allowance, earlier this year.
Previously a claim for the benefit took eight to 10 days, but cancer charities warned last month that payments were taking as long as eight to 10 weeks to process.
The benefits director at the Department for Work and Pensions, Jason Feeney, said the service had not been "up to scratch".
"As the operational director for delivering PIP, I would absolutely say that the service that we gave for some terminally ill claimants at the beginning of PIP wasn't up to the standard, where we would be expecting it to be. I'm not going to try to pretend otherwise. There were some awful experiences that people went through," he told MPs. "The service wasn't where we wanted it to be."
He said a number of changes to the process had been made to ensure that long delays were avoided.
Penning, who has been minister for disabled people since September, said he wanted terminally ill people to be able to make the claim and receive the payment within a seven-day period, but added that he was reluctant to introduce targets to ensure that this time frame was met.
Asked how he was going to enforce the seven-day goal without targets, he replied: "My size 10 boots."
"I have a passion about this. Not just because it's something that has touched my life, but because it is a moral position," he said. "While I am the minister, I want to see seven days. I can't see why we can't achieve seven days or even less."
Duleep Allirajah, head of policy at Macmillan Cancer Support, said: "Terminally ill cancer patients are facing severe delays in receiving their benefits under the new personal independence payment special rules claim. We know that a quarter of our benefits advisers surveyed have come across someone who has died before receiving their benefit – this is simply deplorable.
"We have raised these concerns with the government and are hopeful that working together we can develop a solution. We want them to set targets to process all claims in eight to 10 days as a matter of urgency."
BenefitsWelfareDisabilityCancerHealthAmelia Gentleman
theguardian.com © 2013 Guardian News and Media Limited or its affiliated companies. All rights reserved. | Use of this content is subject to our Terms & Conditions | More Feeds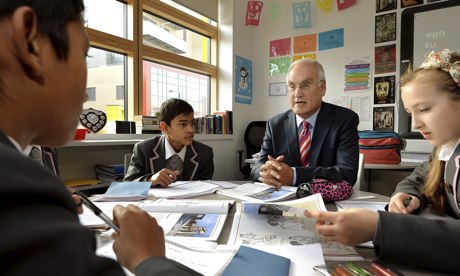 Ofsted chief calls for formal tests for children aged seven and 14
by Richard Adams
11 Dec 2013 at 6:50pm
Sir Michael Wilshaw says exams should be reintroduced 'for benefit of children' as he launches Ofsted annual report
The chief inspector of schools, Sir Michael Wilshaw, has urged the government to reintroduce formal tests for seven- and 14-year-olds "for the benefit of children".
In a speech to launch Ofsted's annual report, Wilshaw said more needed to be done if the country was to keep pace with its overseas rivals.
The Ofsted survey of its inspections in the past year showed that nearly eight in every 10 schools were judged to be good or outstanding, the highest proportion in Ofsted's 20-year history.
But Wilshaw said reintroducing national tests would be a way of measuring progress.
"If we are serious about raising standards and catching up with the best in the world, we need to know how pupils are doing at seven, 11, 14 and 16."
The call was immediately criticised by teachers' unions for overemphasising testing at the expense of learning.
Christine Blower, general secretary of the National Union of Teachers, said testing was "an unhelpful step".
"We already have formal assessment in the early years and the phonics check at age five. This is all too much testing too soon," Blower said.
National tests for seven-year-olds were scrapped in 2004, replaced by teacher assessments, while national tests for 14-year-olds – key stage three – were dropped by the previous Labour government in 2009 after a fiasco involving marking and administration.
The current government introduced a phonics test for pupils at the end of year one in primary school, while 11-year-olds take maths and reading tests at key stage two, with a new spelling, punctuation and grammar test added from May this year.
"Talk to any good headteacher and they will tell you it was a mistake to abolish those tests. That's because good teachers use those tests to make sure every child learns well. In getting rid of the tests, we conceded too much ground to vested interests," Wilshaw said.
"Our education system should be run for the benefit of children, and no one else."
Ofsted had statistics from 30 infant schools that had been merged into standard primary schools, showing that the performance of key stage one pupils suffered once they were in primary schools. That suggested that primary schools put more energy into preparing pupils for key stage two tests.
The Department for Education recently held a consultation on tests for young pupils, offering a "baseline assessment" of either a test for four-year-olds entering reception class or tests for seven-year-olds.
A spokesman for the DfE said: "The department launched a consultation on the primary accountability system and will be responding in due course. We expect teachers to take professional responsibility for the accurate assessment of pupils."
There are now 485,000 more primary school pupils and 180,000 more secondary school pupils attending good or outstanding schools compared with a year ago.
"Looking at the evidence across all sectors, there are unmistakable signs that England's education system is gradually improving," said Wilshaw, who attributed some of the improvement to Ofsted's abolition of the "satisfactory" inspection grade being replaced by the notification "requires improvement".
The chief inspector also announced that Ofsted inspectors would begin making "no notice" visits to schools identified as rife with poor behaviour.
"Classrooms must be orderly places. Around 700,000 pupils attend schools where behaviour needs to improve," Wilshaw said.
Wilshaw gave a nod of approval to the academy programme introduced by Labour in 2007 and expanded under Gove.
"Academies are undoubtedly making a big difference. Well-established sponsored academies in deprived areas have made particularly impressive progress," Wilshaw said.
OfstedEducation policyExamsSchoolsChildrenRichard Adams
theguardian.com © 2013 Guardian News and Media Limited or its affiliated companies. All rights reserved. | Use of this content is subject to our Terms & Conditions | More Feeds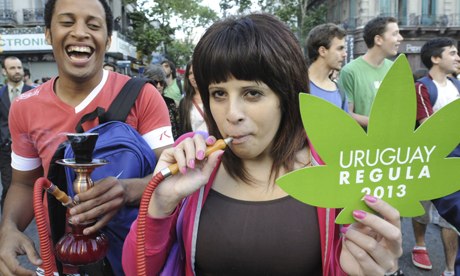 Uruguay marijuana decision 'breaks internationally endorsed treaty'
11 Dec 2013 at 6:50pm
International Narcotics Control Board (INCB) says legalisation of drug contravenes the 1961 Single Convention on Narcotic Drugs
Uruguay's decision to legalise marijuana is in violation of an international convention on drug control, a Vienna-based body set up to monitor government compliance with such treaties has said.
Uruguay became the first country to legalise the growing, sale and smoking of marijuana on Tuesday, in a pioneering experiment that will be closely watched by other nations debating drug liberalisation.
A government-sponsored bill approved in the senate provides for regulation of the cultivation, distribution and consumption of marijuana and is aimed at wresting the business from criminals in the small South American nation.
But the International Narcotics Control Board (INCB) said the legislation contravenes the 1961 Single Convention on Narcotic Drugs, to which it said Uruguay is a party.
"Cannabis is controlled under the 1961 convention, which requires states parties to limit its use to medical and scientific purposes, due to its dependence-producing potential," INCB president Raymond Yans said in a statement.
He was surprised, the statement added, that Uruguay's legislature and government "knowingly decided to break the universally agreed and internationally endorsed legal provisions of the treaty".
The INCB describes itself as an independent, quasi-judicial body charged with promoting and monitoring compliance with the three international drug control conventions, including the 1961 Single Convention on Narcotic Drugs.
Uruguay's attempt to quell drug trafficking is being followed closely in Latin America, where the legalisation of some narcotics is being increasingly seen by regional leaders as a possible way to end the violence spawned by the cocaine trade.
Rich countries debating legalisation of cannabis are also watching the bill, which philanthropist George Soros has supported as an "experiment" that could provide an alternative to the failed US-led policies of the long "war on drugs".
Other countries have decriminalised marijuana possession and the Netherlands allows its sale in coffee shops, but Uruguay will be the first nation to legalise the whole chain from growing the plant to buying and selling its leaves.
Yans, the INCB president, said Uruguay's decision "fails to consider its negative impacts on health since scientific studies confirm that cannabis is an addictive substance with serious consequences for people's health".
"Cannabis is not only addictive but may also affect some fundamental brain functions, IQ potential, and academic and job performance and impair driving skills. Smoking cannabis is more carcinogenic than smoking tobacco," the INCB statement added.
UruguayDrugs tradeAmericasCannabisDrugs
theguardian.com © 2013 Guardian News and Media Limited or its affiliated companies. All rights reserved. | Use of this content is subject to our Terms & Conditions | More Feeds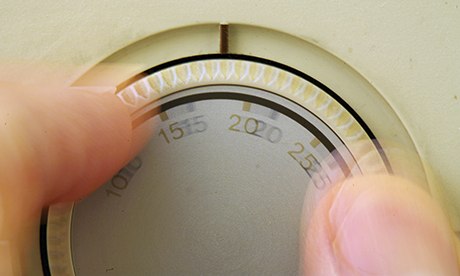 ONS figures show squeeze on household budgets
by Phillip Inman, Sarah Butler
11 Dec 2013 at 6:33pm
Families spending more on heating and maintaining homes, with those on lower incomes cutting spending on food
Soaring energy bills have forced families to spend more than ever on heating and maintaining their homes, according to official figures that illustrate the growing squeeze on household budgets.
Weekly spending on housing costs became the biggest item of expenditure in 2012, outstripping transport for the first time as the cost of energy reached new highs.
The Office for National Statistics said a decline in disposable income since the banking crash had tightened the financial screw on the average household, which had £489 to spend in 2012, compared with £526.40 in 2006 after accounting for inflation.
Labour said the figures illustrated the cost of living crisis affecting most families. Caroline Flint, the shadow energy and climate change secretary, said: "Higher energy bills are one of the main reasons people are finding it harder and harder to make ends meet."
The ONS said the harsh winters of 2011 and 2012 were also likely to have played a part in driving up energy bills.
For the lowest-income families the jump in costs meant they spent 25% of their income on housing, compared with 9% among the richest households.
Lower-income families cut spending on food by almost £1 a week after inflation, according to the ONS, figures that will add fuel to the "heating not eating" debate that is expected to dominate parliamentary discussion of the economy in the runup to the next election.
Overall, the richest 10% of homes spent an average of £1,065.60 a week and the poorest 10% spent £189.30 a week.
An ONS spokesman said families had offset some of the rise in housing costs by cutting down on car journeys, and food spending remained well down on its pre-recession peak. Furniture and garden tools were also singled out by the statistics body as areas where cutbacks had hurt sales.
Spending on recreation and culture has also fallen, though holidays and clothing were protected from austerity measures. "There is strong evidence that people are focusing more on essential items," the spokesman said.
The ONS said weekly spending on petrol (£16.40) and diesel (£8.20) accounted for almost two-fifths of the transport costs. "The price of petrol increased substantially over this period, and it's likely that motorists have responded to this by reducing journeys," it said.
Some of Britain's biggest retailers said the continuing squeeze on family budgets meant they were braced for a difficult Christmas.
Asda's marketing boss, Stephen Smith, said he expected that imminent rises in energy bills would constrain spending through the last few weeks of 2013 and into 2014.
Smith said the supermarket's research into its shoppers' behaviour showed that customers had spent 2% to 6% less of their total Christmas budget than they had at this point last year.
He suggested customers were looking for bargains because they had no more disposable income than in 2012 and an average of £21 a month less than they had in early 2011.
"Things are improving and there is no doubt that the business environment is getting better but that is just not translating to disposable income for the masses," he said.
A series of recent polls have shown that the relief surrounding the recent economic upturn is already beginning to wane.
A YouGov online focus group of people from the "squeezed middle" found they were not yet feeling the benefits of growth.
Stephan Shakespeare, a YouGov spokesman, said: "The picture they painted of their own finances was far removed from the burgeoning economic recovery they've read about in the newspapers.
"Participants all said they had cut down to near bare essentials and were feeling particular pressure being on such a tight budget for Christmas."
He said a 44-year old airline administrator had commented: "I think [the economy recovery] is slight, so not very noticeable to us mere mortals."
A consumer confidence index by YouGov and the economic thinktank Cebr found that consumer optimism could be reaching a plateau. The report said many people relished the rising value of their home and reports of higher GDP growth but their household finances were not keeping pace.
"Our research shows that following a year of economic growth, Britons are still three times more likely to save a cash windfall than spend it," said Shakespeare.
The ONS annual survey, which is based on responses from 5,600 people, showed that a small rise spending on clothes and footwear in 2012 was part of a long-term trend. In 2001 consumers spent £15.30 a week on fashion items; in 2012 the figure had increased to £23.40.
London topped the spending league with an average weekly spend of £571.60, ahead of the south-east on £561.30. Households in the north-east spent the least at £408.70 a week, followed by Wales on £411.30.
Household billsEnergy billsConsumer affairsOffice for National StatisticsPhillip InmanSarah Butler
theguardian.com © 2013 Guardian News and Media Limited or its affiliated companies. All rights reserved. | Use of this content is subject to our Terms & Conditions | More Feeds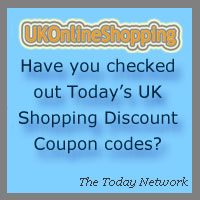 BBC News - UK
The latest stories from the UK section of the BBC News web site.
Lloyds bank in record £28m fine
11 Dec 2013 at 4:52pm
Lloyds Banking Group is fined £28m, a record for a UK retail banking operation, for "serious failings" in relation to bonus schemes for sales staff.
RBS fined $100m by US regulators
11 Dec 2013 at 10:10pm
The Royal Bank of Scotland is fined $100m by US regulators for violating US sanctions against Iran, Sudan, Burma, and Cuba.
Mother and baby murderer jailed
11 Dec 2013 at 5:15pm
A man who murdered his former partner and her baby son in a "shocking and senseless" attack is jailed for life.
Two Damien Hirst art works stolen
11 Dec 2013 at 11:43am
Two signed Damien Hirst art works worth £33,000 are stolen from a London gallery.
Heathrow flights resume as fog lifts
11 Dec 2013 at 10:50pm
Dense fog forces at least 280 flight cancellations at London's Heathrow Airport, causing disruption for thousands of air travellers.
Editors 'joked about hacking phones'
11 Dec 2013 at 8:02pm
Newspaper editors Rebekah Brooks and Piers Morgan exchanged banter at a dinner party about hacking each other's messages, a court hears.
G8 pledges to beat dementia scourge
11 Dec 2013 at 5:15pm
Leading nations have committed to developing a cure or treatment for dementia by 2025 at the G8 dementia summit.
US and UK suspend Syria rebel aid
11 Dec 2013 at 8:37pm
The UK and US suspend all "non-lethal assistance" for the opposition in northern Syria after Islamist rebels seize Free Syrian Army bases.
Anti-cheat software 'stops working'
11 Dec 2013 at 6:19pm
Universities have been forced to extend deadlines because software used to catch plagiarism stopped working.
Royal Mail promoted to FTSE 100
11 Dec 2013 at 6:02pm
Royal Mail, the newly-privatised postal service, is to join the FTSE 100 index of blue-chip companies following its strong share price surge.