Sport news, comment and results | guardian.co.uk
Latest news and features from guardian.co.uk, the world's leading liberal voice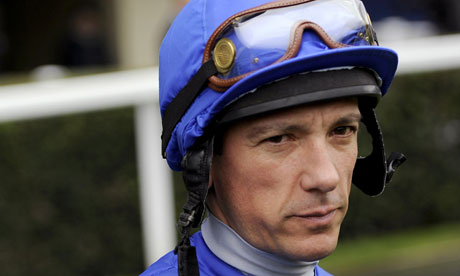 Concerns about new Dettori drug test
by Chris Cook
22 May 2013 at 12:02am
• French racing says delays relate to 'medical issues'
• Jockey hopes to regain licence in time for the Derby
Frankie Dettori's comeback appeared in jeopardy once more on Tuesday night as the ruling body of French racing signalled that it had concerns relating to a "medical issue" over the jockey's fitness to resume his career.
It emerged that the issue could be related to a Racing Post report that Dettori had asked France Galop for a B sample to be tested from a recent test, which would normally indicate that the A sample had shown up irregularities in some way. The Post claimed that "irregularities" had been discovered in the relevant A sample and that it was expected to take seven to 10 days before the result of the B sample was known.
Dettori has been tested repeatedly by both France Galop and the British Horseracing Authority in the past month as his ban neared its end. Dettori's solicitor, Christopher Stewart-Moore, was quoted as saying: "He has undergone 15 tests [in Britain] and passed them all and we know that Dr Turner [of the BHA] is satisfied Frankie is entitled to continue to be licensed."
Under strict French rules, a jockey would be in breach if found to be positive for many over-the-counter medications, including aspirin. "We're waiting for him to get back to us over medical issues," said Julien Pescatore, communications director at France Galop. He was said to have described it as "a private matter".
Christopher Stewart-Moore echoed that sentiment, saying: "We are in correspondence with France Galop about this and it is a private matter." No further elaboration has been offered by either side, but there have been widespread suggestions over the past four days that the French body's delay related to a sample taken from Dettori in the week of 22 April. Neither Dettori nor his agents returned phone calls on Tuesday night.
Dettori's six-month worldwide ban, following a positive test for cocaine while riding in France, ended on Sunday and he was expected to be riding again on Monday night. But he has still not managed to persuade officials to give him the green light and a resolution appears to be at least another week away.
Those close to Dettori must hope that the present glitch relates to something at a trivial level, in which case he might yet hope to regain his licence to ride in time for the Derby, when it is expected he will be given the leg-up on one of the many contenders trained by Aidan O'Brien.
Stewart-Moore has spoken of the jockey having "a number of riding commitments, some in the coming days being of particular interest". The lawyer's ire in recent days has been directed at the BHA and he has threatened to take them to the high court in an effort to make them approve Dettori's credentials.
That threat appeared to carry little weight yesterday at the BHA, whose spokesman, Robin Mounsey, said: "We can't process his licence until we've got the approval and sign-off from the French authorities. That was always there as one of the conditions.
"The only way we could consider [licensing Dettori] is if we get the information as to why there's been a delay. That then leaves the possibility that we can make an informed decision as to whether it affects us. But until we get either of those things, the situation remains the same."
Earlier, Pescatore complained about media coverage of the issue in Britain, where some commentators have laid the blame for the delay at the door of France Galop. "I have read that we are blocking him. We are not blocking anything," he said.
There have been suggestions that, while France Galop is presently refusing to pass Dettori as fit to ride in France, its officials would be sanguine about him being granted a licence to ride in Britain, but Pescatore would not confirm that. "We don't have to comment on what happens in Britain," he said.
Dettori gave a confessional interview to Channel 4 in which he said of September's positive test for cocaine: "I'm very ashamed and embarrassed, and paid a very big price for it, you know. I spent six months not doing the thing that I love, racing."
BHA officials said the authority's position on Dettori's licensing had not changed since last week. Its spokesman Robin Mounsey said: "It remains the situation that the BHA is awaiting either clearance from France regarding Frankie Dettori or an understanding of the reason why France Galop does not consider him fit to ride. At present France Galop is exercising its right not to disclose this information.
"Clearance from France was always one of the criteria needed before Dettori could be issued his licence to ride in Britain and this was made clear by the BHA's licensing committee at its meeting with Frankie Dettori on May 14."
Frankie DettoriHorse racingDrugs in sportChris Cook
guardian.co.uk © 2013 Guardian News and Media Limited or its affiliated companies. All rights reserved. | Use of this content is subject to our Terms & Conditions | More Feeds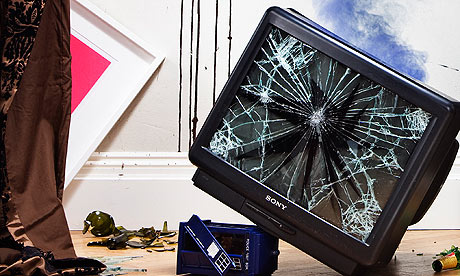 The Knowledge | Football dressing-room misadventures
by Jacob Steinberg, Georgina Turner
22 May 2013 at 12:01am
Plus: Tottenham's points misfortune, high-scoring semis (2) and the origin of the Black Cats. Send your questions and answers to knowledge@guardian.co.uk and follow us on Twitter
"After the recent escapades at Brighton, have there been any other high-profile dressing-room misdeeds?" asks Victoria Jenson.
We start, Victoria, at Upton Park in May 1999 and a fiery game between West Ham and Leeds. The two sides were both battling to qualify for the Uefa Cup and Leeds took the lead inside a minute when Jimmy Floyd Hasselbaink scored from 20 yards out. It got worse from there for West Ham. Shortly afterwards, Ian Wright was booked for an elbow on Alf-Inge Haaland – why always him? – and then received a second booking after 16 minutes after sending Ian Harte flying. Wright didn't take it well. He had to be held back from confronting the referee, Rob Harris, by Trevor Sinclair and Steve Lomas but he was in such a rage that once he disappeared down the tunnel, he kicked open the door to the referee's room and caused damage to personal property and a TV set. "I was so upset I behaved in an unacceptable manner," Wright said later. "I don't even remember properly what I did."
The FA did, though, and fined Wright £17,500 and banned him for three matches. "He [Wright] offered a full and frank admission for his conduct and apologised unreservedly for the distress he caused," said the FA. The match concluded in disaster for West Ham, who ended it with eight men after red cards for Shaka Hislop and Lomas in the second half. Leeds won 5-1 and finished fourth, a place above the Hammers, who ultimately qualified for the Uefa Cup after winning the Intertoto Cup.
A year earlier, there had also been trouble during a match between Linfield and Glentoran in Northern Ireland. Players fought on the pitch, three Glentoran players were sent off, police baton-charged fans fighting in the stands and one fan broke into Glentoran's dressing room to confront the manager Roy Coyle. He was thrown out by the players. "What was a hard-fought, highly competitive derby turned completely with that player scramble," said Linfield's chairman Billy McCoubrey. "After that, the whole thing disintegrated."
Fans of Huracan also recently broke into their own team's dressing room after training, beating up and robbing some of their players, before wrecking a few cars. Around 150 fans stole mobile phones and money from the Argentinian side's players. And Rafael Benítez thought he had it bad at Chelsea.
A diplomatic incident erupted between Italy and Turkey after a Champions League match between Roma and Galatasaray at Stadio Olimpico in 2002. After a 1-1 draw, fighting began when Gabriel Batistuta appeared to punch the Galatasaray defender Emre Asik and, within seconds, both teams, several directors and up to 20 police were brawling near the tunnel. According to Turkish players, mass fighting and police beatings continued once they had left the pitch. The Turkish government condemned the incident. "A police that attacks and truncheons so pitilessly, that goes into the changing rooms and attacks our players and lays out our people again, after already having attacked them on the edge of the pitch, could only be Mussolini's police," said the Turkish foreign minister, Ismail Cem. Vittorio Surdo, Italy's ambassador to Ankara, said that "comments about fascism are unacceptable". All in all, an unsavoury affair.
Politics was also at the heart of a curious incident at the 1978 World Cup, when there were allegations that Argentina's crucial second-round win over Peru had been the subject of match-fixing by Argentina's military dictatorship. The former Peruvian senator Genaro Ledesma even called for Argentina to hand back the trophy. "I want to propose the annulment of the 1978 World Cup," he told Channel 4 News. "Argentina should give it back. It should be investigated by Fifa and by the Argentinian judiciary."
There were claims that Peru were pressured into losing and it has even been alleged that the former Argentinian dictator, General Jorge Videla, turned up in their dressing room before the match with the former US Secretary of State Henry Kissinger. Kissinger's spokesman denied those claims. Peru played badly enough for Argentina to secure a 6-0 win that ensured they finished above Brazil on goal difference and reached the final, where they beat Holland 3-1 after extra-time.
Any more for any more? You know the usual address.
TOTTENHAM'S POINTS MISFORTUNE
"Is the 72 points Spurs got the largest amassed by a fifth-place side?" wonders Matthew Reilly.
Tottenham's total is their highest since they finished third with 77 at the end of the 1984-85 season (when they also rounded off with a 1-0 home win, for anyone who likes to note down that kind of stuff). A couple of years ago it would have been enough for second place, and it's only the third time in the three-points-for-a-win era that 72 points would've earned fifth place rather than a spot in the English top four. On three other occasions, however, the team in fifth has amassed 73 points: Queens Park Rangers in 1983-84, Sheffield Wednesday in 1985-86, and Leeds United in 1994-95. If you've been paying attention you'll have spotted that Tottenham are the first since the Premier League was slimmed to 20 teams to earn so many points and end up fifth, which will no doubt make their fans feel a lot better.
HIGH-SCORING SEMI-FINALS (2)
Last week, Vincent Lacey answered a question about semi-finals with big scorelines but one reader, Paul Joyce, has returned with even more detail.
"Vincent Lacey's answer was admirably thorough, but omits the German Cup semi-finals in the 1983-84 season which produced a total of 21 goals (or 26 if you count the replay)," he notes. "In the first semi-final, played on 1 May 1984, Borussia Mönchengladbach beat Werder Bremen 5-4 after extra-time, having drawn level at 4-4 in the last minute of normal time.
"On the following day in Gelsenkirchen, Schalke and Bayern Munich played out a legendary 6-6 draw, with the teams also having being level at 4-4 after 90 minutes. The replay between Bayern and Schalke a week later in Munich produced a further five goals, with Bayern squeezing through 3-2 thanks to a late goal by Karl-Heinz Rummenigge.
"In comparison, the final was a relatively low-scoring affair, but after Bayern and Gladbach finished extra-time level at 1-1, a further 13 goals were scored in the penalty shootout, with Bayern emerging victorious 7-6."
KNOWLEDGE ARCHIVE
"Why are Sunderland called the Black Cats?" asked Tim Downer in 2008.
This was an easy one. What with the move away from Roker Park in 1997, the club no longer had any use for its previous nicknames The Rokerites and The Roker Men. Not fancying the Stadium of Light-ites, Sunderland instead decided to have a fan vote on the issue. The five options shortlisted were: the Black Cats, the Light Brigade, the Miners, the Sols and the Mackems. Over 11,000 took part in a final online vote, and the Black Cats took it by nearly 50%.
This was a choice soundly in keeping with tradition. According to the club: "The link between Sunderland AFC and the black cat stems originally from a gun battery in 1805 on the River Wear which was renamed the 'Black Cat' battery after the men manning the station heard a mysterious miaow from a wailing black cat. A hundred years later in 1905, a black cat was pictured sitting on a football next to Chairman FW Taylor and three years later a black cat featured on a team photograph." They had us at "mysterious miaow".
• For thousands more questions and answers take a trip through the Knowledge archive.
CAN YOU HELP?
"In the city of Jos in central Nigeria, the rivalry between the fans of the two major clubs – Plateau United FC and Mighty Jets FC – is such that whenever other teams visit to play against either of the home teams, the rival fans cheer for the visitors. It got to the stage that away teams visiting the city don't need to come with their fans because of the available support from supporters of their host's rivals. Does this happen anywhere else?" wonders Yusuf Maisamari.
"Next season will see the first ever South Wales derby between Cardiff and Swansea played in the top flight," writes Martin Boekweit. "This will mean the two have played each other in all four professional English divisions. Have any other teams played each other in four divisions or more?"
"Last weekend the tiny club of FC Arouca won promotion to the Portuguese main league," begins Duarte Romeu. "It was the sixth time Arouca's coach Vítor Manuel Oliveira has won a promotion to the top division, all with different teams (P. Ferreira, Académica, Leixoes, U. Leiria and Belenenses). Is this a record?"
"Sir Alex Ferguson retired off the back of a 5-5 draw," begins Paul Brack. "Has any manager's final game before retirement ever contained more goals?"
• Send your questions and answers to knowledge@guardian.co.uk.
Jacob SteinbergGeorgina Turner
guardian.co.uk © 2013 Guardian News and Media Limited or its affiliated companies. All rights reserved. | Use of this content is subject to our Terms & Conditions | More Feeds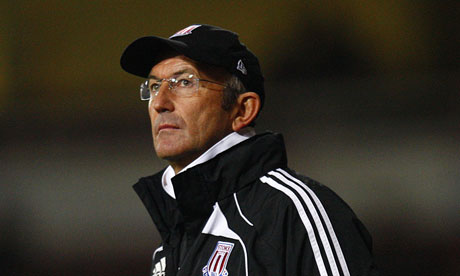 Tony Pulis sacking was largely down to Stoke's failure to raise the bar | Lou...
by Louise Taylor
21 May 2013 at 11:01pm
Old-school Stoke City manager paid the price for failing to introduce a more beautiful game at the Britannia Stadium
Tony Pulis possibly first suspected his time at Stoke City was running out last December. As Christmas approached, Peter Coates, the club's owner, appointed Mark Cartwright, a former Wrexham and Shrewsbury Town goalkeeper and football agent, to the newly created post of technical director – and two worlds collided.
Civil as relations between Pulis and Cartwright might have appeared to casual observers, there were understood to be underlying tensions between an "old-school manager" instinctivelysuspicious of delegation and a 40-year-old tasked with identifying and recruiting competitively priced talent from far-flung corners of the world.
Although Pulis had the final say on transfers, Cartwright's appointment represented a loss of control and, perhaps, an implicit criticism on Coates's part of a transfer policy that saw Stoke's net spend on players during the past five seasons reach almost £80m. Only Chelsea and Manchester City invested more during the same period.
While it would be wrong to say Pulis did not get a return for his money – after leading Stoke into the Premier League five years ago his team not only stayed there but also reached the 2011 FA Cup final and qualified for Europe – Coates is believed to have begun to develop reservations about paying top-dollar for largely British and Irish players.
The deal that arguably provoked Cartwright's arrival was the £10m acquisition of Peter Crouch from Tottenham Hotspur in 2011. Coates was unsure about Crouch before Pulis eventually convinced him, but the former England centre-forward neglected to bring his shooting boots to the Potteries, scoring a modest seven goals in 34 Premier League appearances during the season that has just ended.
Back in 2010 Stoke had splashed out £8m on another centre–forward, Kenwyne Jones from Sunderland, but he, too, has largely disappointed in recent months, scoring only three times in 26 Premier League appearances.
Statistics have not really been Pulis's friend, with recent Opta figures highlighting the fact that the team complete fewer passes than almost any other Premier League side while invariably unleashing a higher percentage of long balls. They regularly record the fewest shots on target of any top division team.
An attendant dependence on securing points from set-pieces rather than open play contrasted unfavourably with the much more fluid, inventive football practised by lower-budget teams such as Swansea City, West Bromwich Albion, and Norwich City. It was not so much that Stoke's style did not evolve under Pulis – back in 2008-09 they averaged 250 passes a game but managed a median 326 this time round – just that it did not develop fast enough to properly catch up in a division in which accomplished coaches such as Swansea's Michael Laudrup were constantly raising the bar.
Cartwright has made some rather loaded comments about the importance of recruiting players capable of transporting the club "to that next level, technically and ability wise", and with Coates keen to invest time and resources in Stoke's academy, it was presumably noted that Pulis rarely fielded players aged under 24. It will also have been observed that, in a large first-team squad, well-paid individuals such as Cameron Jerome, Wilson Palacios, Jermaine Pennant, Matthew Upson, Maurice Edu, Michael Owen and Thomas Sorensen barely managed a handful of appearances between them all season. As Owen recently put it: "It is either the manager's opinion that I'm not good enough to get into the team or I don't fit into the system we adopt."
In some ways the Britannia Stadium became a bit of a Bermuda Triangle for footballers. Among those to have seen once promising careers go off track at Stoke has been Tuncay Sanli, a wonderfully creative, improvisational talent at Fenerbahce and Middlesbrough but the sort of "between the lines" forward Pulis simply could not fit into his, at best, two-dimensional system. Charlie Adam, acquired from Liverpool for £4m last summer, has similarly struggled to make his ability count.
As they watched Adam and company huff and puff their way through another mediocre season, featuring a gentle skirmish against relegation before a 13th-place finish, Stoke fans became increasingly militant, expressing dissatisfaction with their manager's modus operandi. Pulis's oft reiterated riposte was that they had been spoilt. "If you're given steak and chips every day, steak and chips become the norm," he retorted. While many Stoke supporters may argue that the side's football was often more akin to undercooked pasta without sauce, no one could dispute that he presided over a period of rare stability and consistency. Since returning to the top flight Stoke have not finished below 14th.
At 55 Pulis is almost certainly too young to retire, but as he retreats to lick his wounds at his Dorset home and re-acquaints himself with old friends at his local church, the Welshman will be much missed by the wider community in the Potteries. Popular in many circles, including the media, Pulis did much unsung charity work, most notably running a marathon and climbing Mount Kilimanjaro for a children's hospice a mile down from the road from the Britannia Stadium where he proved a frequent visitor, always generous with his time. While his successor strives to implement longed-for stylistic change on the pitch, off it he has much to live up to.
The men in contention to replace Tony PulisRafael Benítez 3-1
Looking for work after his successful interim spell with Chelsea and has a house just up the M6 in Merseyside. But he will be in high demand following Chelsea's Europa League success and Stoke would represent a step down for a man who boasts a managerial CV featuring Valencia, Liverpool, Internazionale and some of the biggest prizes in football. Already linked with Napoli, though has enjoyed his time in the Premier League more than his six months in Seria A.
Roberto Di Matteo 9-2
Impressed when in charge of West Bromwich Albion, where he won promotion to the Premier League before being somewhat surprisingly sacked in 2011. Re-entered the dug-out as assistant to André Villas-Boas and was appointed caretaker following the manager's sacking. Although he won the Champions League in May 2012 he lasted only until November the same year at Stamford Bridge, before being replaced by Benítez. Would bring a change of style.
Gus Poyet 8-1
Currently suspended by Brighton following the club's defeat in the Championship play-offs, but until his somewhat sticky – in more ways than one – end with Albion had forged a reputation as one of the brightest managerial talents in English football. Turned down Reading earlier this year in favour of remaining on the south coast but a more established club may prove tempting and provide a solution to his ongoing standoff with the Seagulls.
Mark Hughes 9-1
His near-decade in club management has brought mixed results but the bulk of the Welshman's success has been with mid-ranking Premier League teams. The finger of blame for QPR's relegation this season has often been pointed in his direction but that should not overshadow solid work with Blackburn, Fulham and, at times, Manchester City. An unglamorous, but fairly safe, option. Would his style be too similar to that of the outgoing Pulis?
Phil Neville 10-1
Looking for his first break in management and due to assist Stuart Pearce at the European Under-21 championships this summer. The new Manchester United manager, David Moyes, has given him his seal of approval and reports have suggested that the former Everton manager wants him to join the new regime at Old Trafford. An early chance to take full control, though, could be tempting. John Ashdown
Tony PulisStoke CityLouise Taylor
guardian.co.uk © 2013 Guardian News and Media Limited or its affiliated companies. All rights reserved. | Use of this content is subject to our Terms & Conditions | More Feeds
Murray pulls out of French Open
by Kevin Mitchell
21 May 2013 at 10:55pm
• Specialists advise world No2 to opt out of Roland Garros
• 'It's been a tough decision but I'm not fit to compete'
Andy Murray has confirmed he will not participate in the French Open because of a back injury. The world No2 said he had made the decision after consulting specialists. "It's been a really tough decision, and I love playing in Paris, but after seeking medical advice I'm not fit to compete," he said.
The French Open, which is the second grand slam tournament of the year, begins at Roland Garros on Sunday 26 May.
With the grass-court season and Wimbledon looming, Murray has elected to err on the side of caution. "After consultation with his team and medical specialists, Andy has reluctantly withdrawn from the French Open and will instead focus on preparation for the grass-court season," a statement read.
The same back injury had bothered Murray at the recent Italian Open in Rome, where he retired in the second round. He had looked troubled throughout his match with Marcel Granollers on his 26th birthday and withdrew after winning a tie-break to square the match at one set all.
The Scot's only previous mid-match retirement coincidentally came on his 20th birthday, when he snapped a tendon in a wrist at the 2007 Hamburg Masters. That was the most serious injury Murray has suffered and led to him missing both the French Open and Wimbledon.
Murray struggled with a lower-back problem throughout the clay season in 2012, one match against Jarkko Nieminen during the French Open prompting the 1977 Wimbledon champion, Virginia Wade, to call him a "drama queen".
The condition returned in Madrid two weeks ago and did not improve with rest. "Until Madrid it had been OK, but it's not been perfect for a long period," Murray said at the Italian Open. "You always go into matches with little niggles and such, but it's frustrating when for a long period you're hurting.
"It's been an issue for a while now and I want to make sure it goes away. It's not enjoyable when you're playing in pain."
The 26-year-old reached the Roland Garros quarter-finals last year, losing to David Ferrer before enjoying a glorious few months, reaching his first Wimbledon final, landing the Olympic gold medal at SW19, and triumphing at the US Open to win his first grand slam.
Andy MurrayFrench Open 2013French OpenTennisKevin Mitchell
guardian.co.uk © 2013 Guardian News and Media Limited or its affiliated companies. All rights reserved. | Use of this content is subject to our Terms & Conditions | More Feeds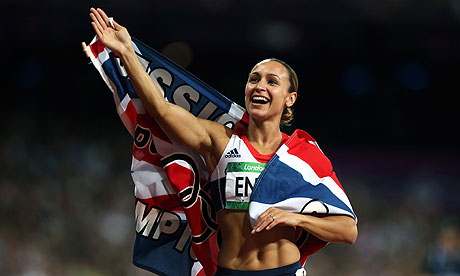 Jessica Ennis to open her 2013 season at event in Edinburgh
21 May 2013 at 10:49pm
• Olympic heptathlon champion to compete for Trafford FC
• Meet will be first outdoor appearance since London 2012
Jessica Ennis, the Olympic heptathlon champion, will open her 2013 season by competing in the UK Women's Athletic League Premier Division meet next month at Edinburgh's Meadowbank Sports Centre.
The appearance will mark her first outdoor competition since her victory at the London 2012 Games and she is expected to compete in three events – hurdles, javelin and long jump – for her club Trafford AC.
She said: "I am looking forward to getting back into competition. Last year had some wonderful highs for obvious reasons but you cannot stand still for long in any sport – let alone one like athletics. I have been training hard with a view to this summer's events, and the world championships in Moscow in August is the major goal."
Her coach Tony Minichiello confirmed Ennis has a Diamond League meeting in Oslo on her schedule, where she will again compete in two or three individual events. Her first heptathlon competition will be in Tallinn in Estonia at the end of June.
Minichiello said: "Edinburgh is a good opportunity for Jessica to blow the cobwebs away and get into competition again. We're planning for her to do three events that day.
"The world championships is the main target for the season so everything before then is looking towards peaking for Moscow."
Jessica EnnisAthletics
guardian.co.uk © 2013 Guardian News and Media Limited or its affiliated companies. All rights reserved. | Use of this content is subject to our Terms & Conditions | More Feeds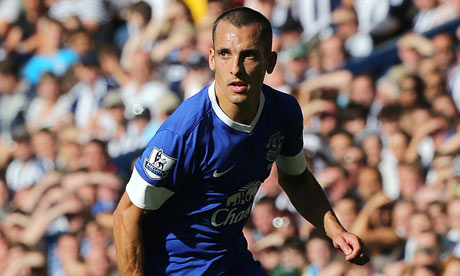 Everton's Leon Osman signs new two-year contract with Goodison club
by Andy Hunter
21 May 2013 at 10:34pm
• Deal will keep Osman at Goodison Park until he is 34
• One-club man would have been out of contract next summer
Leon Osman has signed a new two-year contract at Everton that will tie the midfielder to his boyhood club until the age of 34.
Osman, who along with the full-back Tony Hibbert is one of two players to pre-date David Moyes at Everton, would have been out of contract next summer but has now agreed a deal until the end of the 2014–15 season.
The 32-year-old made 42 appearances for Moyes's team last season and received full England recognition for the first time in November's friendly against Sweden, plus the World Cup qualifying win over San Marino.
He scored eight goals for Everton in the last campaign, but missed the final game at Chelsea due to injury. Osman made his full Everton debut in 2003 and has also had loan spells at Carlisle United and Derby County.
EvertonAndy Hunter
guardian.co.uk © 2013 Guardian News and Media Limited or its affiliated companies. All rights reserved. | Use of this content is subject to our Terms & Conditions | More Feeds
Phil Neville pitches for the vacant Everton manager's job
by Andy Hunter
21 May 2013 at 10:30pm
Defender has told Everton chairman Bill Kenwright that he is keen to take David Moyes's place at Goodison Park
The special one is not bound for Stamford Bridge, according to Phil Neville; he has simply shifted along the M62. It could be bias or the insight from a career played entirely under Sir Alex Ferguson and David Moyes but either way, the former Everton captain is adamant that the Scot, not José Mourinho, is the perfect fit for Manchester United.
Few are better placed to assess Moyes's credentials as Ferguson's replacement than Neville, who worked alongside the Everton manager for eight years after leaving Old Trafford at the age of 28 in 2005. They could be reunited if Moyes opts to bring the 36-year-old on to his coaching staff at United though Neville has told Everton's chairman, Bill Kenwright, he wishes to succeed the Scot at Goodison Park.
Neville's immediate future may be uncertain, but his confidence in Moyes's ability to prove wrong the doubters who would have preferred the more glamorous and proven appointment of Mourinho is clear. "He is the best candidate, 100%," insists Neville. "You can put him alongside any coach in the world for that job and he is the best candidate. If José Mourinho came to Man United you would think, with his track record, that in maybe three seasons he would be gone. Man United are looking at the next 20 years. They've just given David Moyes a six-year contract. It is that kind of club. They invest in a certain kind of manager and that is why he is the best man for the job. There is no one else they could have invested in who would offer the same longevity as the previous manager."
Mourinho won seven league championships in four countries and two European Cups as Moyes rebuilt Everton over 11 years, albeit without bringing a trophy to Goodison. But Neville adds: "The pressure will always be there at United and David Moyes will have to win games and win trophies. He will do that.
"People talk about José Mourinho being the 'special one' but the gaffer has something special about him in his own way. He keeps producing. Every season at Everton people would say he is going to get stale and the club is going to finish in the bottom half but that never happened. He sucks everything out of everyone."
Neville's Everton career has also finished but unlike the club's departing manager, the next step remains unknown. He does not want to join the retirement parade from the Premier League this summer, although he knew his Everton playing days were over following the calamitous FA Cup quarter-final defeat by Wigan in March.
"I was not at the level I expected from myself and if there was ever a painful moment for that to hit home, that was it," he recalls. "The Wigan game was pivotal because it was not just me I was letting down, but a lot of people. It was the worst three minutes of my career in terms of three goals in three minutes that knocked us out of the FA Cup. I don't want to rush into retirement and regret it because people say play as long as possible until the legs can't take any more. I'm not at that stage yet, but I nearly am."
Stoke City are among several clubs interested in Neville as a player, coach or both, but the plan to leave Everton has been revised since United's sudden move for Moyes. Wigan's Roberto Martínez remains the favourite for the Everton manager's job but Neville, along with fellow internal candidates Alan Stubbs and David Weir, has spoken to Kenwright.
Neville, who is working towards his Uefa pro-licence, said: "It would be a really good job to get. I know there are players who have gone into jobs and failed but I just think I have prepared. I have prepared for the last five seasons and I have got some really nice decisions to make. I am prepared for every eventuality.
"I've not reached the end of my career and thought: 'I know, I'll be a manager.' I have had a lot of experience, studying coaching practices. I've got files on every training session from the last three seasons. I have been away with the Under-21s. I'm half-prepared for what I am going in to. I pick his [Moyes'] brains constantly. We were out recently and I was asking him what it is like when your team goes on a night out. Do you set curfews? You have to learn these things.
"He has been unbelievable in the way he has opened up. He tells you the pitfalls and his strengths. I grill him. He must think sometimes: 'Give me a break.' It's the same with Steve Round [Everton's assistant manager]. I virtually man-mark him."
The 36-year-old could follow his brother Gary into the television studio next season if he wishes, as the BBC and BT are keen. But he would prefer the aggravation of management. "There is this preconceived idea that I would follow the likes of Michael Owen, Jamie Carragher and Gary into the media because it's a really good life. But football is my life. I think it will go full cycle.
"We have to go back towards more English coaches and I think over the next three or four seasons the Carraghers, Owens, Terrys, Lampards, my brother, Scholes, Butt and Giggs will be involved. I think the Premier League will be littered with managers of that ilk in four or five years' time."
EvertonDavid MoyesAndy Hunter
guardian.co.uk © 2013 Guardian News and Media Limited or its affiliated companies. All rights reserved. | Use of this content is subject to our Terms & Conditions | More Feeds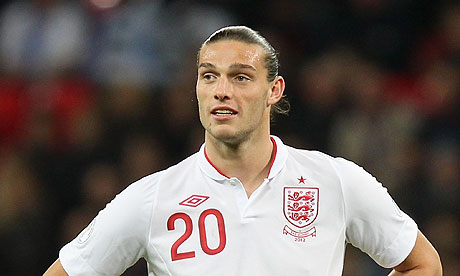 Andy Carroll ruled out of England friendlies through injury
21 May 2013 at 10:22pm
• Carroll will miss games against Ireland and Brazil
• No replacement will be called up for Liverpool striker
The Liverpool striker Andy Carroll has been ruled out of England's friendlies against Republic of Ireland and Brazil with a heel injury.
The Football Association confirmed the news in a statement, saying that Roy Hodgson, the manager, has no plans to call-up a replacement for the striker, who is the subject of a £15m offer from West Ham. "Andy Carroll has been ruled out of the England squad for the upcoming internationals with Republic of Ireland and Brazil," said the FA statement.
"Carroll had been named in Roy Hodgson's squad that will take on Ireland at Wembley on Wednesday 29 May, and then travel to Rio to face Brazil on 2 June, but has now been forced to withdraw through injury. No replacement will be made at this time."
Andy CarrollEngland
guardian.co.uk © 2013 Guardian News and Media Limited or its affiliated companies. All rights reserved. | Use of this content is subject to our Terms & Conditions | More Feeds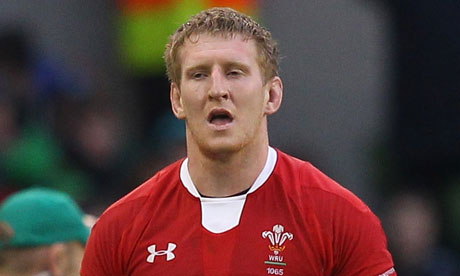 Cardiff's Bradley Davies picked to captain Wales on tour to Japan
by Paul Rees
21 May 2013 at 10:21pm
• Second-row Davies to lead squad with emphasis on youth
• Seven uncapped players feature in 27-strong tour party
Bradley Davies of Cardiff Blues will lead Wales on their two-Test tour to Japan next month. The second-row forward, who has 38 caps, is the one experienced Test player in the 27-strong squad– only three others have reached double figures.
The head coach for the tour, Robin McBryde, was unable to pick 15 players who will be in Australia with the Lions, and decided to overlook the likes of Ryan Jones, James Hook, Lee Byrne and Matthew Rees in order to place the emphasis on development.
He did not change that policy when Scott Williams and Ken Owens, members of Wales's Six Nations squad this season, pulled out with injury last week, along with the 2011 World Cup outside-half Rhys Priestland. "A big part of this tour is the future," said McBryde, who named seven uncapped players, including the Cardiff Blues' outside-half Rhys Patchell, who made a big impact in his first full season for the region. "Four years ago, the likes of Sam Warburton and Jonathan Davies were on the tour to north America and now they are Lions.
"We feel there are players in this squad who can make an impact in the autumn and with the World Cup just two years away, we want to identify leaders. We trained against the Lions last week and it was almost like a Welsh trial. We have experience in the front five and we can take advantage of that in Japan.
"Eddie Jones [the Japan head coach] will be sharpening his knives. We will be playing at the hottest time of the day and he will be sniffing an opportunity with the average age of our squad only 23, but we have players who have been in the squad for a while and we have a good mix of youth and experience."
Davies did not play in the Six Nations this year because of injury and only made one appearance in the 2012 grand slam campaign after being banned for a dangerous tackle in the opening match against Ireland. "I feel really honoured to be captain," said Davies, who captained his country at age-grade level. "I have been injured, banned and knocked out and am glad to be back. You realise what you are missing when you watch Wales playing on television and my family are so proud that my nan told everyone in Llantrisant I was captain before the official announcement.
"It has been a frustrating time for me since the World Cup. I have been a bit unlucky but I have also taken my eye off the ball at times and I have had a kick up the backside. If I had played to the standard I set two years ago and stayed free of injuries, I could have been in Australia with the Lions, but my job now is to help make sure Wales continue our winning run. My message to everyone is that a lot of responsibility comes with the jersey."
Wales rugby union teamJapan rugby union teamPaul Rees
guardian.co.uk © 2013 Guardian News and Media Limited or its affiliated companies. All rights reserved. | Use of this content is subject to our Terms & Conditions | More Feeds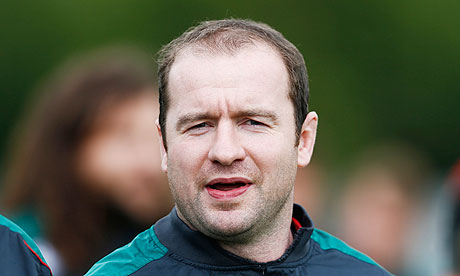 Geordan Murphy out of grand final as Leicester shun sentiment
by Mike Averis
21 May 2013 at 10:00pm
Richard Cockerill's decision not to include the club captain against Northampton is an attempt to avoid mistakes of the past
Twickenham may be Leicester's second home, after all Saturday's grand final is their ninth on the trot, but any hint of selectorial sentiment went out of the window on Tuesday when their club captain, Geordan Murphy, was told he had no chance of ending his career at rugby's headquarters.
After 16 seasons and 317 games, often as Leicester's inspiration, Murphy now knows that his best chance of getting on the field for what would have been his seventh final – the Midlands derby disguised as a final against Northampton – will be as a water boy running messages from the director of rugby, Richard Cockerill. And much the same, it seems, applies to other celebrity departees George Chuter (288 appearances) and Martin Castrogiovanni, the Tiger's favourite leaving Welford Road even though his on-off transfer to Toulon appears to have hit the buffers.
"Selection is on merit," said Cockerill when asked about the chances of the 35-year-old Ireland international Murphy playing on Saturday.
"Geordie's done his bit, but he doesn't merit a spot on the team on performance."
When Cockerill announces his team on Friday he will have been able to pick from one of the stronger squads available to him this season. Murphy's replacement at full-back, Mathew Tait, is enjoying his best form and fitness since almost snatching the 2007 World Cup for England and the wing Adam Thompstone and lock Ed Slater are both now available after injury.
It gives the director of rugby and his departing deputy, Matt O'Connor, headaches over the makeup of the second row where Graham Kitchener could lose out to Slater and in the back row, where Steve Mafi and Thomas Waldrom, the New Zealander who was part of England's last World Cup squad, go head to head. "There's a few [decisions to take] but all good ones, I suppose," said Cockerill.
"You just have to pick the players you think will get you the result. So different teams require different qualities and we'll pick the qualities we think will be best suited for the Saints," added Cockerill before remembering three previous cup final defeats – by Saracens in 2011 and last season Harlequins, the side Leicester beat so convincingly in the semi-final to pave the way for yet another appearance in the final.
"The last couple of years we've lost people with injuries or suspension so it's nice to have those guys available," said Cockerill before retracing his steps to the start of his Leicester coaching career and another final eight years ago. Then Leicester were also hot favourites but conspired to take a heavy beating, thus underlining the absence of sentiment in his likely selection for Saturday.
In 2005 Leicester were saying goodbye to even bigger figures from the club's history in Martin Johnson, then still the club captain and later to become England manager, John Wells, coach with both Leicester and England, and Neil Back, the World Cup-winning England flanker.
However, they had beaten Wasps three times that season and the bookies made Leicester runaway favourites, much as they are likely to be against Northampton – a team beaten and humbled on their own ground less than a month ago.
Cockerill did not draw the parallels, but then again he did not have to. "I was coaching the academy in 2005 when it was Neil Back's last game and Johnno's last game and John Wells was going, and throughout the week it was all about how we were going to send them off," he said. "Wasps kept their own counsel and bashed us in the final.
"It's not about Matt [O'Connor, who will be coaching Leinster next season] or Geordie or Castro or anybody else who is leaving. It's about us winning the game and being champions. And they feel the same.
"We can talk about their contributions after, hopefully when we win, but whether we win or lose the focus has to be on playing, not about anything else like sentiment, because its about us winning.
"I hope we do and I hope those guys get a good send-off, but we have just got to deal with what's in front of us, which is a good Saints side. We know everything about Saints and they know everything about us. The last two years have been disappointing, falling at the final hurdle, and we have to get it right."
LeicesterPremiership 2012-13PremiershipRugby unionMike Averis
guardian.co.uk © 2013 Guardian News and Media Limited or its affiliated companies. All rights reserved. | Use of this content is subject to our Terms & Conditions | More Feeds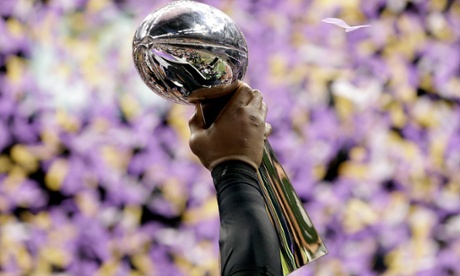 San Francisco 49ers will host 50th Super Bowl in new Santa Clara stadium
by Steve Busfield
21 May 2013 at 9:10pm
The San Francisco 49ers new stadium in Santa Clara will host Super Bowl L in 2016, while Houston will host the following year
San Francisco will host the 50th Super Bowl in 2016, the NFL announced on Tuesday.
Super Bowl L will be played in the 49ers new stadium in Santa Clara, the first time the NFL showpiece has been held in the Bay Area since 1985.
The NFL owners, meeting in Boston, also awarded the 51st Super Bowl to Houston after team owners voted for the two cities ahead of a bid from South Florida.
The $1.2 billion Levi's Stadium in Santa Clara is set to open by August 2014 - after one last 49ers season at the fabled Candlestick Park. Bay Area businesses have already raised $30 million to help pay for the Super Bowl and related events, mainly via internet giants Apple, Google and Yahoo.
Referring to February's 34-31 loss to the Baltimore Ravens in New Orleans,49ers CEO Jed York said: "After losing a Super Bowl, it's certainly nice to win a Super Bowl."
Miami competed for the right to host both the 50th and 51st Super Bowls but was unpopular with NFL owners because of lack of public funding for stadium upgrades in South Florida.
Finances to upgrade the Miami Dolphins' Sun Life Stadium have been declined by local authorities, who recently subsidized a new baseball stadium for the Miami Marlins, only to see the team then trade away its best players after just one season.
The NFL has emphasized giving Super Bowls to franchises and states that have either built new stadiums or refurbished old ones.
The 2014 Super Bowl will be played at MetLife Stadium in New Jersey, where the New York Giants and Jets play, while the 49th Super Bowl will be at the University of Phoenix Stadium, home of the Arizona Cardinals.
No team has ever played in their home stadium in a Super Bowl.
Super BowlNFLUS sportsSan FranciscoSan Francisco 49ersMiami DolphinsHouston TexansHoustonSteve Busfield
guardian.co.uk © 2013 Guardian News and Media Limited or its affiliated companies. All rights reserved. | Use of this content is subject to our Terms & Conditions | More Feeds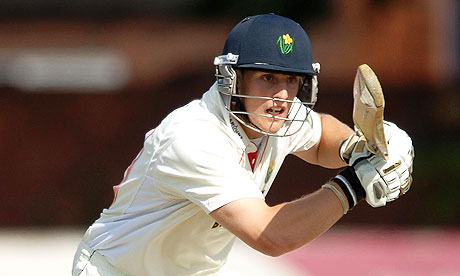 Glamorgan make most of Leicestershire's poor fielding and bowling
by Richard Rae
21 May 2013 at 8:22pm
• Glamorgan 256-5
• Marcus North grinds out workmanlike 68
The county of Glamorgan has already enjoyed considerable sporting success this year, and if the prospects of the cricket club adding to the laurels now adorning Swansea City and Cardiff City by winning promotion from Division Two are limited – they last won a trophy in 2004 – they are at least batting themselves in a position of some strength in this match.
That they were able to do so was in no small part down to Josh Cobb deciding to bowl first, though in fairness to Leicestershire's inexperienced young captain he was entitled to expect his bowlers to extract a little more life than they did from a green-tinged pitch, and that his fielders would not drop three excellent chances.
The Foxes made a decent enough start when Glamorgan's opener Will Bragg played across the line at a straight delivery from Ollie Freckingham. A strongly built seamer who has broken into the first team this season, Freckingham took nine wickets in Leicestershire's last match at Northampton, his best first-class return by a distance, and deserved better than to see Stewart Walters dropped by Michael Thornely at first slip soon afterwards.
He was entitled to be even more annoyed when Walters again drove loosely and Greg Smith dropped him at second slip a couple of overs later. It was as well for the bowler's peace of mind that the Australian batsman refused to learn, drove again, and this time saw Thornely hold the edge in front of his chest. Freckingham's first spell apart, however, the Leicestershire bowling was too inconsistent in both direction and length. Ben Wright and Marcus North were able to take advantage of far too many half-volleys, and Wright's dismissal one short of his half-century was almost entirely self-inflicted, an over-casual attempted leave outside the off-stump that saw the ball just clip the raised bat on its way through to the wicketkeeper.
At 40, Murray Goodwin may be struggling to make the big scores that were a regular feature in the first 11 of his 12 seasons with Sussex, but the Zimbabwean still has more than enough class to take advantage of bad balls. Leicestershire bowled plenty as he steamed to 50 off 56 deliveries before being caught out by a Nathan Buck delivery that came back.
North was far less fluent, taking over 200 deliveries to reach 68 before stroking an off-drive straight into the hands of Matt Boyce, placed at short extra-cover precisely for that purpose. Had Buck not dropped Jim Allenby when the batsman hooked an Anthony Ireland bouncer straight into his hands at long leg, Cobb might have been able to claim his decision to bowl first had been justified.
Given Glamorgan have passed 300 only once in their eight previous innings this season, it may yet be.
LeicestershireGlamorganCounty Championship Division TwoCricketCounty Championship 2013 Division TwoRichard Rae
guardian.co.uk © 2013 Guardian News and Media Limited or its affiliated companies. All rights reserved. | Use of this content is subject to our Terms & Conditions | More Feeds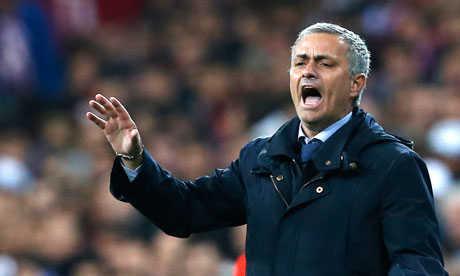 José Mourinho will face greater expectations at Chelsea this time round | Dom...
by Dominic Fifield
21 May 2013 at 8:20pm
Second coming at Stamford Bridge will be popular, but it's likely to be a very different experience for the returning manager
There will be some familiar faces awaiting José Mourinho when, as expected, the Special One – newly liberated by Real Madrid – secures his second coming at Stamford Bridge. Five senior players remain on the books from his glittering first spell in charge at Chelsea and a sixth, Michael Essien, will accompany him back from Madrid. Some of the medical and performance staff, whether analysts or masseurs, linger on. Even Gary Straker, the steward-cum-Italian interpreter turned player liaison officer and one of the great survivors at the club, is still on the day to day scene down at Cobham.
Mourinho will presumably relish renewing old acquaintances, yet it is how he copes with the aspects of the job that may feel rather alien that will determine how long this reconciliation endures. This is a very different Chelsea to the one he left so abruptly, and acrimoniously, in the autumn of 2007 when his relationship with the owner, Roman Abramovich, appeared fractured beyond repair. His original brief had centred upon winning a first Premier League title in half a century, a task achieved at the first attempt, and an inaugural European Cup. That was only secured in his absence, albeit largely with his team. Regardless, he had overseen a revolution featuring a blend of charisma and siege mentality that was ideal at a club muscling its way into the establishment. These days Chelsea talk more of evolution. Therein lies the anomaly of turning to a manager whose appointment tends to guarantee both trophies and, ultimately, a messy divorce.
The Portuguese will arrive mid-project. As Rafael Benítez has been quick to point out over recent weeks, this is a team in transition, a side that includes the first wave of younger talent recruited at significant expense. Juan Mata, Eden Hazard, Oscar, and even César Azpilicueta, Victor Moses and David Luiz, were bought to fit into a framework that aped Barcelona's quick-step, the same ideal Mourinho has spent the last three years attempting to usurp.
The club's extensive recruitment and scouting department, overseen by the technical director, Michael Emenalo, is apparently working towards a long-term strategy, even if there has been an imbalance in the senior squad assembled so far. The hope is that Mourinho buys into the overall vision and does not merely set back what progress has been made. Chelsea spent about £90m during his first summer in south-west London, an outlay that would not feel outlandish if repeated nine years on. But, back then, that bought eight players who arguably became integral to his first-choice line-up. Emenalo would suggest the spine is already in place this time around, and that no radical overhaul is required. Indeed, the new manager must also assess the entire squad of youngsters loaned out last season – from Romelu Lukaku to Jeffrey Bruma, Patrick van Aanholt to Josh McEachran – before determining the make-up of his side.
Working with Emenalo will be key. Since joining as a scout under Avram Grant a month after Mourinho's exit, the former Nigeria and Notts County defender has made himself a powerful figure, close to the owner and hugely influential within the set-up, whether earmarking potential signings or reporting back on the current staff. The 47-year-old's rise may have appeared rapid and unexpected, but he has arguably become the owner's eyes and ears down at the training ground, a man whose input is valued. Emenalo is here to stay. Mourinho will have to work with him in a way he would never have accepted with Grant, who had been imposed upon him as a director of football in the summer of 2007.
Indeed, he will have to accept the entire infrastructure of the club this time around, from the chairman, Bruce Buck, to the chief executive, Ron Gourlay. The schism that occurred with his employers six years ago had been born of a perception within the hierarchy that Mourinho felt, and acted, as if he owned the club. The parting of the ways represented the owner reasserting control. The problem is that Abramovich has lurched from manager to interim in the years since and never stumbled upon a candidate capable of amassing the trophies the Portuguese secured in a little over three seasons at the helm. Mourinho may be volatile, a ticking time-bomb off the pitch, but he generally succeeds on it.
This time he must also contend with expectation. He had arrived a Uefa Cup and Champions League winner in 2004, but was still a relative unknown. Chelsea's supporters at the time felt a certain loyalty to the deposed Claudio Ranieri, but were blown away by the sheer brilliance of the new manager: whether he was defending the club in public, riling opponents so brazenly, or transforming matches with tactical tweaks that felt bold and innovative. He was a breath of fresh air. This time round, the fans – so disenchanted by the treatment of Roberto Di Matteo and the willingness to turn to Benítez as a stop-gap replacement – expect their idol to have a similar effect again, completing the team's transition in a blaze of glory reminiscent of those title successes in 2005 and 2006. Yet he will arrive at a club that has secured European trophies in the past two seasons, the margins for progress so much tighter than they were. Mourinho will be welcomed by those in the stands and will savour the task ahead, but this feels like a very different challenge.
ChelseaJosé MourinhoRoman AbramovichDominic Fifield
guardian.co.uk © 2013 Guardian News and Media Limited or its affiliated companies. All rights reserved. | Use of this content is subject to our Terms & Conditions | More Feeds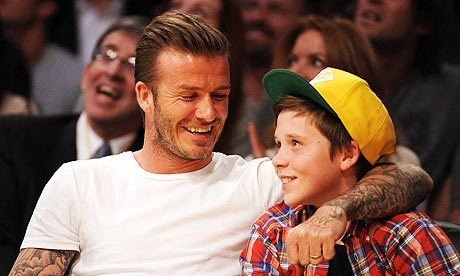 Brooklyn Beckham, 14, is 'training' with Queens Park Rangers
21 May 2013 at 8:20pm
• Club confirm link, but says he is not part of academy
• Bookies offer 12-1 on Beckham playing for England
David Beckham's eldest son Brooklyn is training with Queens Park Rangers.
Reports surfaced on Tuesday morning claiming the 14-year-old had joined the club – relegated from the Premier League this season – in an official capacity, but they announced via their Twitter feed later that the teenager is only training with them.
The official Hoops Twitter account @OfficialQPR said: "Contrary to reports, Brooklyn Beckham has been training at #QPR but has not joined our academy."
Beckham Sr, who began his career by joining Manchester United's academy – also at the age of 14 – retired from the game last week after helping Paris St-Germain to secure the French league title and he has a home in London.
Bookmakers are offering odds of 12-1 that his son will play for England but he is only 9-2 to play in the Premier League.
David BeckhamQPR
guardian.co.uk © 2013 Guardian News and Media Limited or its affiliated companies. All rights reserved. | Use of this content is subject to our Terms & Conditions | More Feeds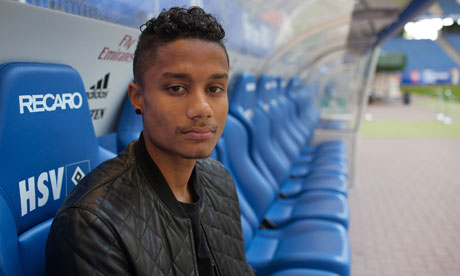 Michael Mancienne flourishes in Mighty Mouse's Hamburg footsteps
by Stuart James
21 May 2013 at 8:01pm
Chelsea's frustrated talent is playing a lead role on the stage where another Englishman, Kevin Keegan, remains a legend
It is not a bad time to be the only Englishman in the Bundesliga, even if the right-hand drive Range Rover Michael Mancienne parks outside Hamburg's stadium suggests he is not quite ready to buy into everything German. With Bayern Munich and Borussia Dortmund meeting in the Champions League final, and Pep Guardiola on his way over, Germany is the place to be in Mancienne's eyes. "This league is only getting bigger and better," he says.
Two years have passed since Mancienne left Chelsea, the club where he had been since the age of eight, to follow in the footsteps of a former England international who will always be close to Hamburg hearts. "Mighty Mouse!" says Mancienne, referring to the moniker Kevin Keegan was given at Hamburg. "He was a legend here and they still love him to this day."
Keegan spent three years with Hamburg back in the late 1970s, when the club won a league title and reached a European Cup final, which feels a long way from their current ambitions. Hamburg flirted with relegation in Mancienne's first season and, although they improved this term, a seventh-place finish means they missed out on qualifying for Europe.
It has, Mancienne admits, been "a rollercoaster couple of years" for the club, with Hamburg's erratic form summed up by their results this season against the Champions League finalists. Having beaten Dortmund home and away, Hamburg suffered their second defeat of the season by Bayern Munich, in March, in the most humiliating circumstances possible. They were hammered 9-2, which was their heaviest defeat for 49 years.
"That game was unbelievable," Mancienne says. "I was on the bench because it was my first game back [after injury]. I have never seen anything like it before. They looked so dangerous every single time they attacked. And that wasn't their strongest team, they rested a few, that just shows the depth in their squad. They could probably put another team in the Bundesliga and finish second. Munich's form this season has been phenomenal."
Hamburg's defeat in Munich was so embarrassing that the club felt obliged to do something unprecedented to apologise to those supporters who had travelled to the Allianz Arena. "I think it took some people about nine hours to get there, we wanted to say sorry for such a bad game, so the team threw a barbecue and gave free food and free beers," Mancienne says.
"It took place behind the stand after training and every player had to go. The fans were able to come up and speak to us and pretty much tell us how they felt – you would never get that in England, by the way! Obviously inside the players were thinking: 'Oh shit!' But it was actually a good afternoon."
Although Mancienne is full of admiration for Bayern, and in particular their attacking prowess – he says Mario Mandzukic has been his toughest opponent in the Bundesliga – the central defender senses Dortmund may triumph at Wembley. "Dortmund play really good football but their main quality is that they work so hard for each other. When they lose the ball, watch their players – they all try to win it back. They're so good at countering as well. It's two great teams, but on the right night I think Dortmund could beat Bayern."
Talking in one of the hospitality suites at Hamburg's Imtech Arena, Mancienne gives the impression that he could not be happier in Germany. Mancienne has relished the chance to play regularly – he had started every game but one this season until he damaged his ankle ligaments in January – and believes he has matured as a footballer in a league "where everyone tries to play".
There has, in other words, never been a moment when Mancienne has questioned if he made the right decision to accept an offer from Frank Arnesen, who left his position as sporting director at Chelsea to take up the same role at Hamburg. "As soon as Frank told me, I thought: 'One hundred per cent you need to do this.' It was going to be a new challenge, a different phase of my life and an exciting opportunity. I knew the time was right, a chance to create my own name and not be the youngster trying to come off the bench at Chelsea," says Mancienne, who made six appearances for Chelsea and had loan spells at Queens Park Rangers and Wolves.
"I wanted to be playing regularly and obviously I knew that would be a pretty much impossible task at Chelsea. They've got so much money, and as a homegrown player you almost get cast aside a little bit. You feel like you don't get an opportunity unless you go out on loan. And even then you come back, think you've done well and you get sent back out on loan again.
"It was hard but it just made me more hungry to play football because I knew that I couldn't sit on the bench and rot away. So when this opportunity came along it was something I had to take. And, to be honest, I don't really think about Chelsea now. I'm happy where I am and feel blessed to be at such a big club." Although Mancienne feels settled in Germany, it would be fair to say that he is living more like an Englishman abroad than a native. "Yeah, that's true," Mancienne says, smiling. "I have German lessons and I can understand a lot but speaking is a little bit difficult. Also everyone speaks English to me. Obviously I've got an English car, I tried driving on the other side but it was strange. I've got English Sky in my house and I read English papers online. The one thing that has changed is my food because they eat so healthily out here. In England I'd be tempted by so much rubbish in the supermarket but it's not like that in Germany."
With no burning desire to return home, it may take an international call-up to get Mancienne back to England, assuming that door is still open. Six years ago Mancienne gave an interview in the Seychelles, which is where his father was born, and vowed to play for the Indian Ocean archipelago if he had not represented England by the age of 25. That birthday passed in January and a full England cap – he was called up by Fabio Capello in 2008 but never made an appearance – to go with his youth and Under-21 honours is still missing from his collection.
Mancienne laughs at the comments he made as a teenager. "I am 25 now but I still feel too young to make a commitment like I promised back then! If the Seychelles were a bigger nation, actually trying to play for something … it's so far away as well. And obviously I was born in England, I grew up there, that's where my heart lies and I want to play for them. As for coming back to England permanently, though, I haven't really thought about it. I'm really happy with my football here and I can't see myself going anywhere else."
HamburgChelseaBundesligaEuropean club footballStuart James
guardian.co.uk © 2013 Guardian News and Media Limited or its affiliated companies. All rights reserved. | Use of this content is subject to our Terms & Conditions | More Feeds

BBC Sport - Sport
The latest stories from the Sport section of the BBC Sport web site.
Murray withdraws from French Open
21 May 2013 at 11:31pm
Andy Murray withdraws from the French Open because of the back injury that forced him out of the Italian Open.
Woods and Garcia refuse to end spat
21 May 2013 at 1:55pm
West Ham agree £15m Carroll fee
21 May 2013 at 8:31pm
Manager Pulis leaves Stoke City
21 May 2013 at 4:25pm
Manager Tony Pulis leaves Stoke City by mutual consent following talks with chairman Peter Coates on Tuesday.
Commons retires from Scotland set-up
21 May 2013 at 10:05pm
Harrison makes U-turn on retirement
21 May 2013 at 6:29pm
Olympic gold medallist Audley Harrison reverses his decision to retire from boxing three weeks after quitting the sport.
Di Canio actions investigated by PFA
21 May 2013 at 2:05pm
Anchoring of putters to be banned
21 May 2013 at 3:46pm
Intxausti wins 16th stage of Giro
21 May 2013 at 5:21pm
Spain's Benat Intxausti wins stage 16 of the Giro d'Italia as Vincenzo Nibali maintains overall control of the race.
Encke will retain trophies, says BHA
21 May 2013 at 7:05pm
Encke will retain his trophies because there was no evidence his St Leger win was influenced by doping, says the BHA.
Carroll pulls out of England squad
21 May 2013 at 10:34pm
Andy Carroll withdraws from the England squad for the friendlies against the Republic of Ireland and Brazil.
Kessler ready for Froch rematch
21 May 2013 at 10:58pm
Mikkel Kessler says "he is at his peak" before his world title fight against Carl Froch in London on Saturday.
Man Utd top television revenue table
21 May 2013 at 3:15pm
Premier League champions Manchester United earn £60.8m in television revenue while Newcastle United suffer a £9.1m fall.
Hammers to sign Romania defender Rat
21 May 2013 at 8:06pm
Romania defender Razvan Rat will join West Ham on a free transfer when his Shakhtar Donetsk deal expires on 1 July.
Bell passed fit for England Test
21 May 2013 at 11:12am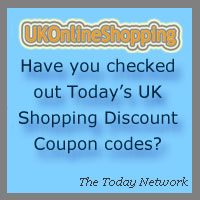 BBC Sport | Latest Published Stories | UK Edition
Updated every minute of every day
Schedule/results 2012
14 Mar 2012 at 9:23am
All the results from around the world as well as the latest schedule.