Sport news, comment and results | theguardian.com
Latest news and features from theguardian.com, the world's leading liberal voice

Australia v England – live!
by Geoff Lemon, Simon Burnton
13 Dec 2013 at 7:13am
Over-by-over reports: England bag key wickets as Australia come out swinging. Join Simon Burnton
Geoff LemonSimon Burnton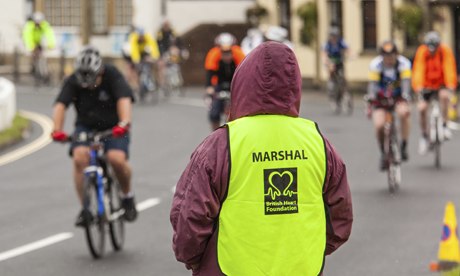 Bike blog: Mistakes that doom cycling races | Danae Mercer
13 Dec 2013 at 7:00am
Errors, genuine or mischievous, have dashed the hopes of many a cyclist mid-race. Tell us your experience
On October 27, the Essex Off Road Duathlon was cancelled mid-race. Members of the public had changed the direction of race arrows. That, along with strong winds, a few technical glitches, and too few marshals, resulted in the race being unexpectedly stopped.
Speaking to cyclists, most seem to have a 'race mistake horror story' to tell, ones resulting from forces outside their control.
"While racing amateur in France, I was doing a small race the Alps and I was winning. I had over a minute lead with about 5km to go," said David McLean, an ex-professional cyclist. Only McLean didn't win. "One of the marshals wasn't ready at his turn, so I didn't see him, and he didn't see me. It turns out he was changing his colostomy bag. I continued descending in the wrong direction, and it took a long time to realise what had gone wrong."
Graham Lee, a frequent race organiser who was involved in the logistics of the Essex Off Road Duathlon, cites another incident. "We once had an evening race. In the afternoon, we put the signs out. By the time we finished registration, there was another load of arrows. In those couple hours, someone re-signed the place.
"Mistakes like these are fairly common," explained Lee. They occur for a number of reasons: the weather, vehicles, other cyclists, and occasionally, good-intentioned old ladies.
"I've had three instances with nice old ladies. The first time, we put up signs for one of our races. We came back, saw the signs had been taken down. We followed the path. And we saw these old ladies who were walking their dogs, collecting the signs. They thought they had been left out. It was very nice of them in some respects – but it created a challenge," he said.
"We've had finish lines blowing over because of the wind, dogs chasing people along …" added Lee.
Then there are the more unlikely race mistake moments, like when the Orica-GreenEdge team bus became lodged under the finish banner during this year's first Tour de France stage.
Cyclists don't only experience 'race mistakes'. They can occasionally cause them. Runners in a Newcastle race went the wrong way after taking a passing cyclist in a yellow top for a race marshal.
"In general, most events go well, but sometimes these things happen," said Lee.
All of this has got us wondering: what are your 'race mistake' stories?
• Danae Mercer is a freelance journalist
CyclingFitnessCyclingTour de France
theguardian.com © 2013 Guardian News and Media Limited or its affiliated companies. All rights reserved. | Use of this content is subject to our Terms & Conditions | More Feeds

New Zealand end long wait for a win in just three days against West Indies
13 Dec 2013 at 4:20am
New Zealand's long wait for a Test win arrives in unseemly haste as they beat West Indies by an innings and 73 runs at the Basin Reserve

Mick Fanning's title showdown with Kelly Slater postponed for another day
13 Dec 2013 at 12:56am
Another small swell prompts organisers to call a second straight lay-day at the season-ending Pipe Masters in Hawaii, putting Australia's Mick Fanning's title bid on hold.

Alessandro Del Piero insists he is happy at Sydney FC
13 Dec 2013 at 12:38am
Alessandro Del Piero has moved to assure supporters of Sydney FC that he has no plans to leave the club.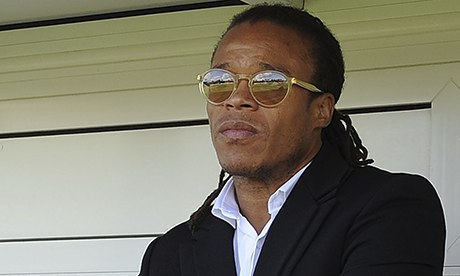 Edgar Davids: 'Bergkamp was very important, but Gullit was a dominator'
by Sean Ingle
13 Dec 2013 at 12:01am
The Dutch legend on why football is like chess, exchanging tips with Magnus Carlsen and Ruud Gullit v Dennis Bergkamp
Good afternoon Edgar, could you spare a few moments? For you Small Talk, always.
We didn't expect to see you here at the London Chess Classic but we hear that you're quite a strong player … Absolutely not [chuckles]. I'm not even an average player but I really love the game. I started playing when I was a kid but if you want to get good you have to study hard – and I was doing other things.
Speaking of which, did you ever whip out a chessboard and play your team-mates? All the time! I could beat most of them but Zvonimir Boban was something else. He was by far the best. A demon. I could never beat him. But I've improved a lot since then …
As a footballer you were known as the Pitbull. But what kind of chesspl … [interjecting] Aggressive! I always start with 1.e4 and I like winning every game!
But are you a good loser? [Poker face] Absolutely.
Do you have a favourite chess player? I like Judit Polgar and Magnus [Carlsen]. I even went to visit him when he played Wijk aan Zee.
Really? Carlsen likes playing football, doesn't he? He's OK. I didn't need to give him many tips. Actually, we spent most of our time talking about the similarities between football and chess.
So the cliche about a football game being like a chess match isn't a lazy myth? Oh no: there are so many similarities, especially when it comes to speed chess. In both games you have to think fast. In chess you tend to know all the patterns already, just like in football …
Interesting, now … [enthusiastically] Both involve thinking but they are also intuitive; because you train so much your unconscious mind can take over. And in both games if you make one mistake it can be all over.
Time is short Edgar so a few quick fire questions. Ruud Gullit or Dennis Bergkamp? Gullit [a puzzled expression comes over his face] Er, is that with chess?
Just football Edgar. Definitely Gullit. Don't get me wrong, Dennis was, without a doubt very important for Dutch football. But Gullit was a dominator. And you only ever get a couple of dominators in world football at any one time. When Gullit played well, his whole team played well – whether it was at Milan or Sampdoria or the national side. He could carry a whole team on his back and make them win. He was on another level.
What about the last film you watched? Er, I think it was Wolf, a Dutch movie …
Is that a horror flick Edgar? No. It's a drama from a family from Morocco that lives in Amsterdam. It's very good, really.
And your favourite CD? I love music but there are so many! Maybe Bob Marley.
What's your pre-match meal? Pasta.
Simple tomato sauce or creamy carbonara? I've always had whatever I was given.
Good man. Do any of the Barnet players play chess? Well, I've actually put a chessboard and pieces at the club …
Really? Have any of your players dared to take you on yet? No, but some of them can play. In fact I play with our assistant coach.
So who wins? Well, he thought he was the best and claimed he had never lost … [Pinteresque pause].
And then he met you? I didn't want to say, Small Talk [chuckles].
Cheers Edgar … Cheers Small Talk.
Edgar Davids was speaking at the London Chess Classic, Britain's premier chess event hosted by charity Chess in Schools and Communities. For more information visit www.londonchessclassic.com
ChessBarnetSean Ingle
theguardian.com © 2013 Guardian News and Media Limited or its affiliated companies. All rights reserved. | Use of this content is subject to our Terms & Conditions | More Feeds

'Juve: mud, trickery and bitterness' – James Richardson's European football p...
by James Richardson, Andy Gallagher, Matt Hall, Richard Sprenger
13 Dec 2013 at 12:01am
AC Jimbo takes a dip in the midweek sporting press and comes up smelling of controversy as there's anger in Italy following Juventus's shock exit from the Champions League
James RichardsonAndy GallagherMatt HallRichard Sprenger

Sydney Roosters to add England coach Steve McNamara to back-room staff
12 Dec 2013 at 11:59pm
• McNamara to act as assistant to Trent Robinson
• England lost World Cup semi-final to New Zealand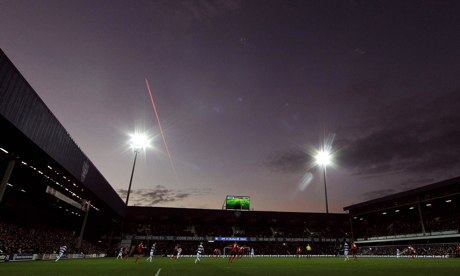 Queens Park Rangers plan to quit Loftus Road for 40,000-seat stadium
12 Dec 2013 at 11:23pm
• Move is part of regeneration of Old Oak in west London
• 'We need more than an 18,000 capacity,' says Fernandes
Queens Park Rangers are set to move from Loftus Road to a new 40,000-seat stadium as part of a major regeneration project in the Old Oak area in west London.
The plan is to develop a stadium at the heart of the regeneration area – about two-and-a-half miles north of Loftus Road – and for this to be the catalyst that will bring about the creation of a residential and commercial area larger than Canary Wharf, ultimately generating 50,000 jobs and 24,000 homes.
The scheme has the provisional title of New Queens Park.
The QPR chairman Tony Fernandes, told www.qpr.co.uk: "Loftus Road is – and always will be – a special place for the club and our supporters, but we need more than an 18,000 capacity.
"With no option of expanding here, we have to look elsewhere and we welcome the mayor's and Hammersmith & Fulham council's commitment to regenerate the area, which includes an option to develop a new stadium at Old Oak as a key catalyst to bring forward redevelopment, cementing our future in this part of West London.
"Not only will this give us a top quality stadium to cater for QPR's needs as the club progresses and grows over the years ahead, but we are very excited about being the driving force behind creating one of the best new urban places in the world. This will be the catalyst for the regeneration of a forgotten area."
QPR's chief executive, Philip Beard, said: "We will be consulting our loyal and passionate supporters, as well as the local community, on our exciting plans early next year. We will look to build a stadium QPR fans and local residents can be proud of. Loftus Road is renowned for its atmosphere and with the help of our supporters, replicating that at our new stadium will be one of our top priorities."
The Championship club, managed by Harry Redknapp, have concluded a letter of collaboration with the Greater London Authority and the London Borough of Hammersmith & Fulham to "bring forward an early and very significant private sector investment into the Old Oak Common regeneration area".
The news follows Boris Johnson's recent announcement that turning Old Oak into a new world-class city quarter is to be one of his main regeneration priorities.
QPR have had three stints at Loftus Road. The team moved there in 1917 after their ground at Park Royal was commandeered by the army and remained until 1931. But at the start of the 1931-32 season they moved to White City Stadium, before returning in 1933 after a £7,000 loss. Then in the 1962-63 season the team once again moved to White City but again returned after just one season, and have played at Loftus Road ever since.
The ground's record attendance is 35,353 against Leeds United in 1974 but its capacity has since been reduced to 18,439 and the club's highest attendance this season was 17,626 against Sheffield Wednesday in August.
QPR
theguardian.com © 2013 Guardian News and Media Limited or its affiliated companies. All rights reserved. | Use of this content is subject to our Terms & Conditions | More Feeds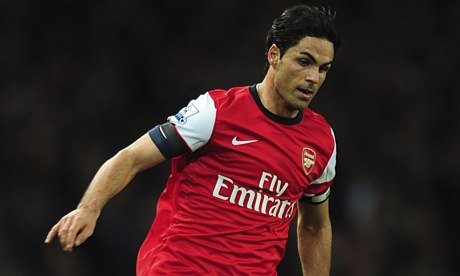 Arteta rails against scheduling
by David Hytner
12 Dec 2013 at 10:30pm
• Arsenal frustrated that Etihad visit is so soon after Napoli trip
• 'Preparation not ideal but there will be no excuses,' says Arteta
Mikel Arteta has expressed frustration and disbelief that Arsenal must visit Manchester City for Saturday's showpiece Premier League fixture a little over 48 hours after getting home from their Champions League tie at Napoli on Wednesday night.
The Arsenal manager, Arsène Wenger, has already made plain his dissatisfaction, calling for the introduction of an independent ethics committee to arbitrate on the fairness of match scheduling. He feels that the television companies ride roughshod over the game's authorities to dictate kick-off times to suit them, with no regard for the clubs' requirements. The Premier League can point out that each club signed up to the lucrative television deal.
Arsenal faced Everton at home last Sunday in the 4pm game, drawing 1-1 and they will kick off against City at 12.45pm. They made the flight back from Naples after the tie, which ended in a 2-0 defeat for them, with the players getting to their homes at roughly 4am.
Arteta, though, says that the mood in the squad remains positive and, as they seek to make a statement of title-winning intent at City, he insisted that there could be no excuses related to fatigue.
"The recovery time is very tight," Arteta says. "I don't understand why we play Sunday afternoon, Wednesday evening, get back at 4am and then play again on Saturday morning in Manchester. There is nothing we can do – just recover well. It's a big game and we want to win it.
"The preparation will just be about recovery. It's not ideal. There is a late warm-down [on Thursday], we try to get our legs back for Friday ... travel on Friday and be as well prepared as we can because they will be ready for us. They rested seven or eight players in Munich [against Bayern on Tuesday night].
"I think we have different options [in the squad]. You could see that we changed the team a bit again against Napoli. We have to be ready, no excuses. We know it can be a big statement if we get a good result against City. That's what we want."
Wenger joked in his post-match press conference in Naples that he would have to hurry as he and the squad "have to fly directly to Manchester because the game is so early". The issue has been on his mind and the changes that the City manager Manuel Pellegrini made to his starting line-up against Bayern have also been noted at Arsenal.
City, though, had earned the right to rest players, having already ensured their qualification to the Champions League last 16. Costel Pantilimon, Pablo Zabaleta, Vincent Kompany, Yaya Touré, Samir Nasri, Sergio Agüero and Álvaro Negredo were stood down from the team that drew 1-1 at Southampton last Saturday, and they still beat the defending European champions 3-2.
Wenger, by contrast, fielded a virtual full-strength team against Napoli, as Arsenal had not secured their qualification. They did enough to advance, although the defeat meant that they did so as the group runners-up and, as such, they will now face a more daunting last-16 assignment against Bayern, Barcelona, Real Madrid, Atlético Madrid or Paris Saint-Germain.
It felt like an opportunity missed – a draw would have seen them advance as the group winners – and Wenger admitted that his players' "legs went a bit" in the second half, when they were too passive. In light of the disappointing result against Everton, Arsenal are determined to respond. They still hold a five-point lead at the top of the Premier League, but after City, they face Chelsea at home on Monday week.
"Before the Champions League started, we would have been happy to go through from that group," Arteta says. "But in the position we were in, we wanted to finish first because we know we will face really difficult opposition in the next round so we are disappointed.
"We can compete with any team in Europe on our day but we are making it tougher on ourselves. If we had finished first, it would have been a different story but we will take it on the chin.
"We are looking at top teams who have won their groups easily so it's a tough time, although I'm sure that they are not going to be happy to play against us either. It doesn't matter who we play out of these teams"
Arteta will be suspended for the last 16, first leg after his dismissal against Napoli for two yellow cards. He felt harshly treated, given that he only made two fouls in a game that was littered with them – 32 in total, 16 by each team.
"It was a joke," Arteta said. "Two fouls in the whole game and two yellow cards, so I'm very disappointed. You miss the next game and you put your team in a difficult position. It was harsh and very unfair."
ArsenalManchester CityChampions LeaguePremier LeagueDavid Hytner
theguardian.com © 2013 Guardian News and Media Limited or its affiliated companies. All rights reserved. | Use of this content is subject to our Terms & Conditions | More Feeds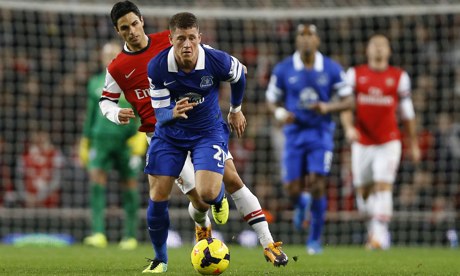 Everton to offer Ross Barkley an improved long-term contract
by Andy Hunter
12 Dec 2013 at 10:29pm
• Barkley to be rewarded for rising to Goodison expectations
• 'I felt confident this could be the season I'd break through'
Everton are to offer Ross Barkley a new long-term contract that reflects his emergence as one of the finest young talents in England.
The 20-year-old has two and a half years remaining on the lucrative deal he signed in December 2011 but after he has begun to fulfil long-held expectations at Goodison Park this season, Everton plan to open talks on extending and improving Barkley's terms. The club want to reward the midfielder's impact as a Premier League regular and also deter inevitable suitors before a summer that is likely to feature a World Cup in Brazil for their homegrown talent.
"Ross has got a long-term contract with us so it is not a situation where he is coming to the end of his contract," said Roberto Martínez, the Everton manager. "As a club, we will always want to reward young players if they do well in the first team and their roles change. Remember that Ross was a youngster trying to break into the first-team squad. Now, for me, he is going to have an important role in the squad, so that is going to be reflected. But there is not a timescale [on the contract being signed]."
Everton have always been proactive on Barkley's contract situation, handing the England international a maximum two-and-a-half-year contract at 17, when he was recovering from a triple leg fracture, and replacing that with a four-and-half-year deal days after his 18th birthday. Negotiations on his latest contract, however, are yet to commence.
Martínez said: "It is something that is in my thoughts. As soon as we conclude that, we will let the fans know. It is the same for every young player, not just for Ross. Every youngster that comes in and allows himself to step up into a new role, that is going to be recognised in a contract. If his contract is up at the end of the season or he has another five years, it doesn't matter."
Manchester United and Chelsea were among those interested in Barkley before he turned 18 and made a handful of appearances for Everton under David Moyes, but it is only this season under Martínez that the Liverpool-born midfielder has established himself as a first-team regular. And Barkley, advised to remain at Everton by the Liverpool captain Steven Gerrard, admits Martínez's appointment has been crucial to his emergence.
Barkley, who was loaned to Sheffield Wednesday and Leeds United during Moyes's tenure, said: "I knew when I heard he was coming in that I'd get my chance this season. I'd seen the way he was with Callum McManaman and James McCarthy at Wigan, that he gives young players their chance. I knew I was the type of player to suit him because he's a really tactical manager who likes to build up the play. So I felt confident this could be the season I'd break through."
Everton are also looking to extend the contracts of Leighton Baines and Sylvain Distin, who have 18 and six months remaining on their current deals respectively.
"Sylvain has been a terrific performer this season and we couldn't be happier with his role at the club," said Martínez, who would not be drawn on the specifics of Baines's contract negotiations. The England left-back is likely to be subject of renewed interest from Manchester United in January. "All these issues are vital for us and we are going to look after them straight after this Christmas period. At this moment all that matters is to get everyone focused in being ready to help the team and Sylvain clearly has been an example of doing that."
EvertonRoberto MartínezAndy Hunter
theguardian.com © 2013 Guardian News and Media Limited or its affiliated companies. All rights reserved. | Use of this content is subject to our Terms & Conditions | More Feeds

Europa League clockwatch – as it happened | Paul Doyle and Scott Murray
by Paul Doyle, Scott Murray
12 Dec 2013 at 10:08pm
Minute-by-minute report: Swansea and Spurs march on in Europe. Paul Doyle and Scott Murray were watching
Paul DoyleScott Murray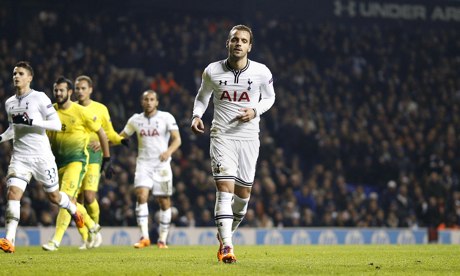 Tottenham Hotspur 4-1 Anzhi
by James Riach
12 Dec 2013 at 10:06pm
Two weeks can be a long time in football, especially where André Villas-Boas is concerned. This result made it four wins from five for Tottenham, who advance to the knockout stages of this competition having secured a victory in every European match this season. Slowly, they are banishing the memories of that dismal defeat at Manchester City.
Spurs top the group but in the last 32 could face Juventus, Ajax or Villas-Boas's former club Porto, who all dropped out of the Champions League this week. Sunday's game with Liverpool is a more pressing matter, yet a fine hat-trick from Roberto Soldado ensures that Tottenham go into that crucial match with a striker oozing confidence.
Soldado, who had scored only three goals from open play this season before this match, was deadly. The Spaniard opened the scoring in the first half with a deft header before clinically slotting in a second after a precise ball from Erik Lamela, who Villas-Boas insisted would not be allowed to leave on loan this winter.
Ewerton scored from a corner for Anzhi before Soldado added his third from the penalty spot after the young full-back Ryan Fredericks was felled in the area, with Villas-Boas claiming the display would be a "major boost" for the striker.
"It was extremely important for him to get back to scoring," said Villas-Boas. "I'm extremely happy for him. He's been waiting for a moment like this and it finally happened tonight. It will be major boost for a player who has been very professional and deserves respect.
"I don't think he lost his confidence but, as a striker, you have to persist and persist; finishing off the situations you are given and that final touch hasn't been there for him recently. It will be a great boost of confidence for him."
Anzhi, despite having already secured qualification from Group K before this game, are bottom of the Russian Premier League and without a win in 19 matches. Europe has provided Gadzhi Gadzhiev's side with some welcome relief this season after their billionaire owner, Suleyman Kerimov, drastically cut the club's spending in August.
But it has been a miserable domestic campaign for the Russians ever since. Spurs, who made seven changes to the team that won at Sunderland on Saturday, did not wait long to punish their opponents.
After seven minutes Soldado got the faintest of touches with his head to guide Gylfi Sigurdsson's fine, curling cross on to Evgeni Pomazan's left-hand post and in following a free-kick won by Andros Townsend on the left edge of the penalty area.
Less than 10 minutes had passed before Villas-Boas's side had doubled their lead. Lamela, on the right flank, received the ball 30 yards from goal and slipped in Soldado with a precisely-weighted pass. The striker needed just one touch before firing low across the goalkeeper.
Anzhi reduced the lead one minute before the interval, Ewerton prodding in from a Nikita Burmistrov corner, yet there was to be no comeback. Danny Rose, making his first appearance at left-back after a three-month absence, was replaced for the second half by the youngster Fredericks, who provided a fresh impetus.
He played a key role in Tottenham's third, yet it was Lewis Holtby who put the gloss on the move, controlling expertly inside the area after a deft chip from Townsend and steering the ball with remarkable poise into the far corner.
Soldado got his hat-trick when Fredericks was brought down in the area by Jucilei, firing his penalty low into the side netting. Villas-Boas added: "It was difficult conditions for both teams, [already] qualified first and second, so that's what pleased me most: the professionalism and dedication of the players."
Europa LeagueTottenham HotspurAnzhi MakhachkalaEuropean club footballJames Riach
theguardian.com © 2013 Guardian News and Media Limited or its affiliated companies. All rights reserved. | Use of this content is subject to our Terms & Conditions | More Feeds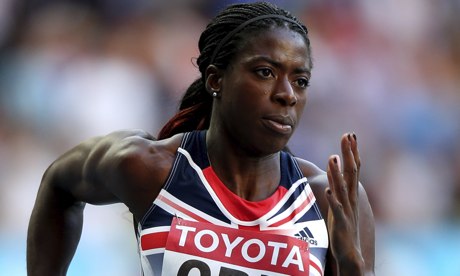 Christine Ohuruogu unfazed as battle for wider recognition goes on
by Sean Ingle
12 Dec 2013 at 10:01pm
• 400m world champion on shortlist for Sports Personality award
• 'Whether people appreciate it or not doesn't really concern me'
Christine Ohuruogu says she is unconcerned about whether the public appreciates her or not despite finally getting wider recognition as one of Britain's greatest female athletes.
Ohuruogu's thrillingly close 400m victory over Amantle Montsho at the world championships in Moscow brought her to a total of three Olympic and world titles – a figure matched by just Daley Thompson and Jonathan Edwards and only bettered by Mo Farah, who has five – as well as a series of awards.
In recent weeks she has been named British Athletics' and British Athletics Writers' Association Female Athlete of the Year; the Sky Sports and Sunday Times Sportswoman of the Year; and even Cosmopolitan Ultimate Sportswoman 2013. She is also one of only two women, along with the Paralympian Hannah Cockroft, on the 10-strong shortlist for Sunday's BBC Sports Personality of the Year.
But Ohuruogu says that how the public view her successes matters less than what her coach, Lloyd Cowan, and her family think of her. "To be honest, whether people appreciate it or not, it doesn't really concern me," she said. "My coach and I know what all this hard work means to us. We've been working solidly for the last 10 years and we've been successful for the last 10 years despite our ups and downs. So I'm proud of him and he's proud of me and my family are proud of me and that's what means a lot."
Ohuruogu sidestepped the debate about the lack of women on this year's Sports Personality shortlist, but added pointedly: "It would have been nice if there had been more but I'm sure they had their reasons for their selections."
After taking a six-week break following her triumph in Moscow, Ohuruogu is back in full training and motivated for next year, where she is likely to compete in the Commonwealth Games and European Championships. However, the chances of adding the world indoor title to her outdoor title seem slim, with Ohuruogu hinting that she may even skip the indoor season altogether because of the pressure it puts on her ankles.
"To be honest, I've always been told to stay away from running indoors because it messes around with my ankles," she said. "I just did it because I'm stubborn and I don't like to listen. Now I think I will probably heed a lot of that advice and back off the indoors a little bit so that I don't cause any unnecessary problems."
Competing at the Commonwealth Games will almost certainly bring about a rematch with Montsho, who Ohuruogu beat by the width of her GB vest in Moscow, and it is a reunion she welcomes.
"I really do rate her as an athlete," said Ohuruogu. "I can't imagine what was going through her mind when she found out she hadn't won, but she was so lovely and so humble. Afterwards, I said congratulations but I knew she was upset and hurting and I didn't really want to add to that. Maybe some time this season I'll sit down and talk to her."
Meanwhile Ohuruogu also admitted that when she told her young sister Vicky, who was part of the British 4x400m squad in Moscow, that she was intending to compete at the 2016 Olympics she was not entirely happy. "I heard a slight groan because she knows she's going to have to deal with me," Ohuruogu joked. "That's just how it is. But it's really nice and refreshing to watch her develop and I'm proud of her."
Christine OhuruoguBBC Sports Personality of the YearAthleticsSean Ingle
theguardian.com © 2013 Guardian News and Media Limited or its affiliated companies. All rights reserved. | Use of this content is subject to our Terms & Conditions | More Feeds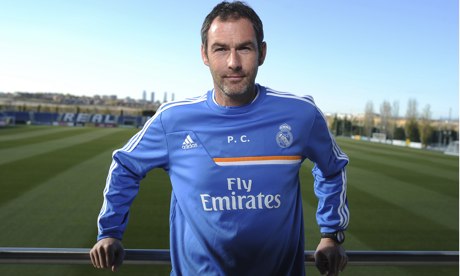 Paul Clement: the Englishman hoping to help Real Madrid conquer Europe | Sid ...
by Sid Lowe
12 Dec 2013 at 10:00pm
The English coach at the Bernabéu reveals just how good Cristiano Ronaldo and Gareth Bale are to work with every day
From the balcony at Valdebebas you can see for miles. To one side stands the new terminal at Barajas airport with its huge bamboo frame. Further round, the sierra rises up, bordering Madrid to the north and west, snow settling on the peaks. And towards the city, Figo, Zidane, Ronaldo and Beckham tower above everything –the nicknames given to the four skyscrapers constructed on Real Madrid's former training ground – while below, maybe 10 metres down, lie the immaculate pitches where Real Madrid train now. And from here, Paul Clement smiles, looking right, you can just about make out his new house, too.
It has been some journey. The pitches are empty but not for long. It's mid-afternoon and training begins in little under an hour. Cristiano Ronaldo and Gareth Bale will be joined by Xabi Alonso and Isco, Karim Benzema and Iker Casillas. Clement will be in the middle, leading them. The son of the QPR player Dave Clement but never a professional himself, Paul Clement is the Londoner who followed Carlo Ancelotti from Chelsea to Paris Saint-Germain, where he worked with Zlatan Ibrahimovic. Now he's assistant coach at the biggest club in the world, alongside Zinedine Zidane.
"There were a couple of opportunities, including one abroad and one in the Championship," he admits. "But I was really excited about coming here. It's an ambition [to be head coach] but I'll stay here as long as I can. It's a great experience to work at this level: it's the pinnacle."
It's hard to disagree: in Monday's Champions League draw, no one will want Madrid, who finished on 16 points, having scored 20 goals in six games with Cristiano Ronaldo getting a record nine goals in the group phase. Since losing the clásico, Madrid have scored 24 in five league games. But it is right here, on these pitches, that the difference really strikes Madrid's English coach.
"I can think of one particular exercise we've done at all three clubs. The players were doing it here very early on, and myself and Carlo just looked at each other. We couldn't believe the level," Clement says, his tone conveying the impact. "Chelsea had fantastic players but they were different: mature, powerful, very strong physically. Paris Saint-Germain had a mix of the old PSG and the new, and Ibra would do things that were just unbelievable, things I've never, ever seen before, but there was a big range. Here, from young players to old, the technique is so good. The thing I noticed from day one was that the execution is at a higher level. Much higher.
"You have to keep challenging them, so you reduce time and space so that they have to think quicker, act quicker."
That ability is especially evident at Madrid but Clement believes it runs throughout the Spanish game. "When you go down to teams in 18th, 19th or 20th they all try to play, they have good creative players: wingers, players off the front. There's a higher technical level than the lower levels in England and in France as well."
Is there an explanation for that? Clement ponders. "I think it's a cultural thing, a belief in a certain way of playing. You see it in the national team and the academies. At seven or eight, they're already developing two-footedness, they're not so concerned about the physical side or winning. They believed in that and now they're reaping the rewards. English clubs are now more interested in that [approach] and are working hard to improve but it is a long process."
It is a process Clement has seen with different eyes, having embarked on a coaching career from the age of 23 and taken the opportunity to work abroad with Ancelotti. He concedes that he might have been offered jobs sooner had he played but would not necessarily have been a better coach. "Signing ex-players is a safer bet in terms of the pressure, but the thing about playing is you're often thinking about yourself; when you're learning to be a coach you are thinking about bigger things and I have been doing that for a long time now." Instead, he has watched, studied, and developed.
Much is said about the result of the work players undertake; rather less is said about the work itself. Clement believes in "open, attractive football", with the emphasis on intelligence and technique, even as he accepts that it carries some risks: the short blanket theory. As he explains the mechanisms, the methods and ideas that underpin what he, Carlo Ancelotti and their players actually do, the drills and the lessons, it's clear that these are processes that have been thought and re-thought, discussed, applied and adapted over time; it's clear too that Clement believes in coaching.
Yet the knowledge is worn lightly and presented simply; there is no mystification of the manager and no possessiveness. He says it's natural to watch England games, for example, and wonder what he'd change, who he'd play. But asked what he would do in Roy Hodgson's position he laughs a laugh that says "nice try" and responds: "Roy's doing a great job." He talks naturally about shifting Madrid's shape from 4-4-2 to 4-3-3 and 4-2-3-1 depending on the players available; about the discussions that led them to their current formation. And about what the daily work entails.
"Today, for example, because the players have had two days off we won't work hard," he explains. "The old style in England would be the first day in after a day off you'd kill the players, but there's more knowledge about how to train effectively now. What we do is conditioned by and focused on the next game, aided by the work from the scouting team which you incorporate as quickly as possible.
"You work from the game and come backwards to the sessions. You don't invent things for the sake of it. All the drills, even the warm ups, which are always with the ball, emphasize good control and passing: diagonal passing. Not playing straight, not playing lateral; always an open body position, trying to play forward, playing on angles.
"But football is not complicated; it's simple. We don't make up things. It's not a circus. We try to keep things simple and related to the game. Coaches like to be guarded and I certainly wouldn't put my set plays up in the opposition's dressing room but I'm not sure there are that many secrets. Take set plays: when you're defending: individual marking, it's your responsibility. When you're attacking, I always say to the players: 'guys, it's about the ball you put in'.
"At this high level, it's about the little marginal gains, whether that's having an excellent nutritionist or someone to help recovery: those things can make a difference. That's down to both the players and the club."
Ronaldo is the obvious example. "Cristiano's a senior player and has had a great upbringing, working under Ferguson," Clement agrees. "He's at a stage of his career where he's made mistakes and learned and he manages himself really well. There was a game we arrived back from at 3am and he went off for an ice bath. Another time, we got back from Istanbul at 6am and the physio's giving him a rub down." You might be thinking that it's the physio you feel sorry for. Clement laughs: "Yeah exactly. He's alright, he's just got to lie there!"
"As for Gareth [Bale], what I like about him is that he's down-to-earth in the dressing room," the Englishman continues. "He's quiet, he's humble. On the training field he knuckles down. He's young still so it's very exciting. He's coachable ..."
Coachable? Are there players who aren't? "Oh yeah, without doubt," Clement grins. "Gareth wants to improve. A couple of games ago, he got into good scoring positions and wasn't finishing. So the next day he says: 'can we do extra shooting?' After training, he's one of the last to leave, whether it's having additional treatment, the gym, or ice baths. His food is right. He's a very, very good professional. In my experience of working with players like Frank [Lampard], John [Terry], or Ashley Cole at Chelsea, Zlatan at PSG, or Cristiano or Gareth here, what stands out is that they are top professionals. They have the talent but they do all those other things that make the difference."
Some have seen in Bale a clone of Ronaldo. "Do you think so?" Clement asks. There is surprise in his voice. "Cristiano's an incredible player: at the moment in my opinion the best there is in the world. Listen, there are similarities, no question: both are good with dead balls, both are wingers who score an incredible amount of goals, both are athletes ... but I think Gareth comes in between the lines more. Cristiano is very direct in his style, whereas Gareth will come inside and play combinations. He'll look to slide balls into others. Ronaldo is very direct.
"Football is simple: there is a goal and you have got to try to put the ball in it. And I think that's exactly what Cristiano thinks."
Real MadridLa LigaEuropean club footballSid Lowe
theguardian.com © 2013 Guardian News and Media Limited or its affiliated companies. All rights reserved. | Use of this content is subject to our Terms & Conditions | More Feeds

BBC Sport - Sport
The latest stories from the Sport section of the BBC Sport web site.
QPR unveil new stadium plans
12 Dec 2013 at 11:43pm
Tottenham Hotspur 4-1 Anzhi Makhachkala
12 Dec 2013 at 10:03pm
Tottenham finish the Europa League group stage with a 100% record as Roberto Soldado's treble helps them beat Anzhi Makhachkala 4-1.
Did London 2012 fail to inspire a generation?
12 Dec 2013 at 5:56pm
It is clear, writes BBC sports editor David Bond, that policy makers need to do more to tackle falling youth participation rates in sport
F1's Ecclestone faces inquiry call
12 Dec 2013 at 9:15pm
FC St Gallen 1-0 Swansea City
12 Dec 2013 at 8:46pm
NK Maribor 2-1 Wigan Athletic
12 Dec 2013 at 8:40pm
Wigan's Europa League campaign comes to an end as they lose to Maribor in Uwe Rosler's first game in charge.
Rugby international on attack charge
12 Dec 2013 at 6:34pm
A Scottish international rugby player appears in court charged with assaulting another player in Glasgow's west end.
Di Resta out as Force India sign Perez
12 Dec 2013 at 2:14pm
Uefa to issue plan against match-fixing
12 Dec 2013 at 10:37pm
Uefa will distribute an 11-point plan designed to tackle match-fixing to all 54 European football associations.
Funding threat to tennis and football
12 Dec 2013 at 1:27pm
Sports could lose public money after drop in participation.
FA to consult fans on Hull name change
12 Dec 2013 at 6:17pm
The FA will consult supporters over the Hull City owner's proposal to change the club name to Hull Tigers.
Allardyce expects board patience
12 Dec 2013 at 5:19pm
West Ham United boss Sam Allardyce understands speculation over his position but expects patience from the club's owners.
Healy could miss Six Nations start
12 Dec 2013 at 6:01pm
Ireland prop Cian Healy could miss the start of the Six Nations campaign after undergoing surgery on an ankle injury.
Klinsmann to stay on as USA coach
12 Dec 2013 at 8:18pm
Ex-Germany player and coach Jurgen Klinsmann will remain in charge of the United States until after the 2018 World Cup.
Blackburn grant Campbell 'time off'
12 Dec 2013 at 3:34pm
DJ Campbell will not feature for Blackburn Rovers against Millwall on Saturday after being questioned about spot-fixing.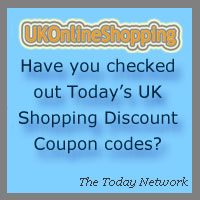 BBC Sport | Latest Published Stories | UK Edition
Updated every minute of every day
Schedule/results 2012
14 Mar 2012 at 9:23am
All the results from around the world as well as the latest schedule.